Conservation-friendly livelihoods limit illegal bushmeat trade
Field Journal
Conservation-friendly livelihoods limit illegal bushmeat trade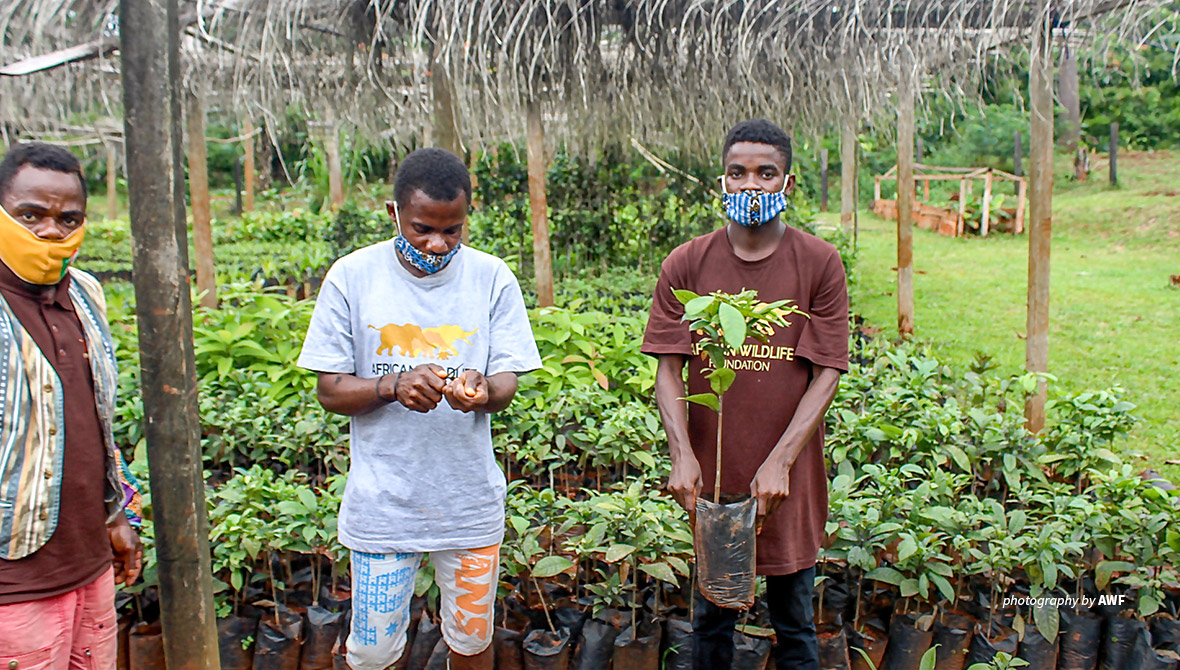 In Cameroon's Campo Ma'an National Park, frequent bushmeat seizures are worrying conservation officials. From 2020 to date, African Wildlife Foundation's team on the ground has reported a total of 1,392 kg bushmeat from different animal species seized from poachers. Most of the poached species have been duikers (850 kg), porcupine (214 kg), monkeys (183 kg), red river hog (50 kg), and pangolin (35 kg).
While the rest are poached primarily for their meat, the pangolin is also killed for its scales which are trafficked to Southern and East Asia under the misguided belief that they have curative properties. The pangolin has now become the most trafficked mammal in the world.
"Poverty is one of the major causes of poaching as communities depend solely on forest products such as bushmeat to support their livelihoods. There is a high demand for bushmeat in urban markets like Kribi and Ebolowa, which are approximately 60 kilometers from protected area, therefore allowing ease of access," says Lesly Akenji, AWF's Technical Advisor overseeing programs in the Campo Ma'an technical operation unit.
"The growing heavy infrastructure projects in the area such as the Memve'ele hydro-electric dam and the Kribi deep seaport, as well as agro-industries like Société Camerounaise de Palmeraies and Société d'Hevea du Cameroun, have attracted thousands of people to the area, ensuring that there is a consistent market for bushmeat," he adds. Palm and rubber plantations operated by Société Camerounaise de Palmeraies (or Socapalm) and Société d'Hevea du Cameroun (also known as Hevecam), respectively, are situated on the western boundary of Campo Ma'an National Park.
Anti-poaching and community livelihood development interventions
Cameroon has been described as Africa in miniature, and perhaps that description is most fitting for Campo Ma'an National Park. Adjacent to the white sandy beaches of Kribi on the Atlantic coast, Campo also boasts the evergreen Guineo-Congolese rainforest, as well as mountain ranges and plateaus. The diversity of its relief features has contributed to its unique fauna and flora. With an area of over 260,000 hectares, the protected area is home to 1,500 plant species, 80 large and medium mammal species, and 390 invertebrates. It also hosts 249 fish species, 112 reptile species, 80 amphibian species, and 302 bird species.
It is this rich biodiversity that AWF is working with the government of Cameroon through the Ministry of Forestry and Wildlife to protect. Protecting biodiversity across the technical operation unit of Campo Ma'an, AWF has established a 5-year anti-poaching strategy designed to effectively and adaptively reduce pressure on wildlife populations. This work is funded by the German Development Bank and Foundation for Environment and Development in Cameroon.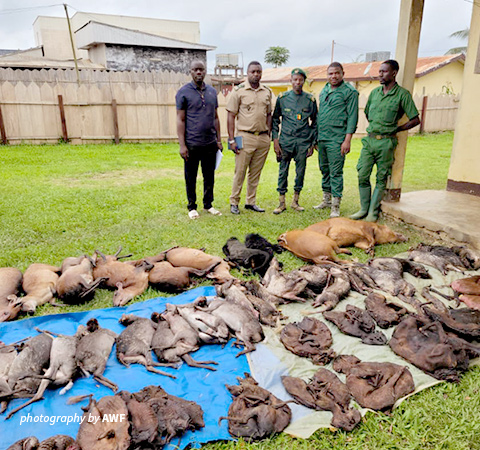 "AWF supports the rangers on mobile and foot patrols by providing fuel, food rations, medicines, communication and individual/group camping equipment. In the past three years, the rangers have arrested 25 poachers, destroyed 260 [poaching] camps and 7,280 traps, and collected 538 ammunitions and 56 guns. In addition, over 1000 kg of bushmeat has been seized to discourage commercial buyers," says Akenji.
As poverty is a big driver for illegal wildlife trade, AWF is also working with the local community to establish sustainable enterprises as an alternative to bushmeat poaching. In Nyamabande Village, for example, AWF is supporting the local community in the value addition of non-timber forest products such as bush mango (Irvingia gabonensis) and njansang (Ricinodendron) to produce beauty products like oils and creams. These are then transported and sold in urban areas for profit.
Currently, 236 households are benefitting from this income-generating activity, which has led to improved standards of living.
As the ongoing pandemic has further destabilized families, AWF's COVID-19 Emergency Response addressed growing food scarcity, distributing seeds and farming implements to support sustainable agriculture. Twelve communities received both equipment and crop seedlings including 500 kg of maize, 20 kg of groundnuts, 2,300 plantain offshoots, 5,000 stems of cassava, and 10,000 cocoyam seeds. Other materials distributed include 180 cutlasses, 185 hoes, and 40 pairs of boots. Communities have since established 18 hectares of cropland to plant the seedlings they received.
The preliminary harvest has yielded 975 kg of fresh maize, 5,575 kg of cassava, 165 kg of cocoyam, 15 bunches of plantain and 270 packets of vegetables. The income from the sale of these agricultural products has enabled them to buy household goods including oil, soap, salt, and clothes, while paying for other basic expenses.
"We hope that as the communities continue to harvest and produce enough to feed their families and even sell surpluses at the market, the pressure on wildlife will reduce. We hope to support the creation of prosperous, food-secure communities who no longer rely on hunting for sustenance. This is the only way to ensure that wildlife continues to thrive in Campo," says Akenji.
> Learn how sustainable agriculture supports forest conservation in the Democratic Republic of Congo's Bili-Mbomu Protected Area Complex