IWD 2023: Bili-Uere's women eco-guards at the frontline of conservation
By Rachel Emisave | March 31, 2023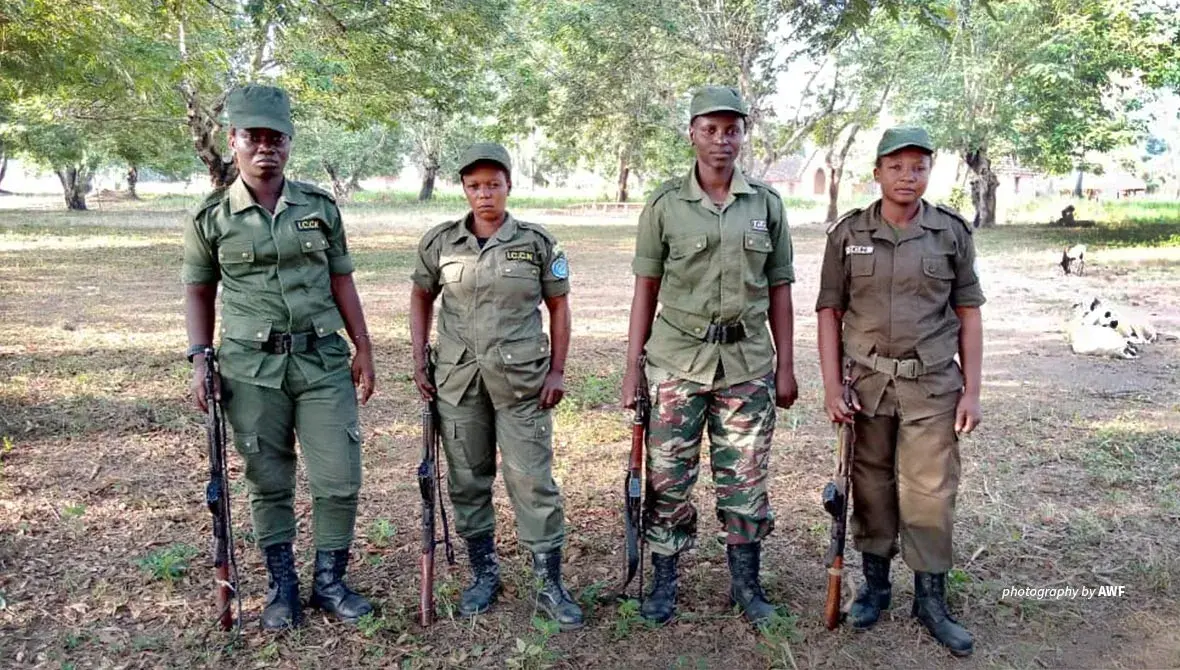 About the Author
Rachel Emisave is African Wildlife Foundation's Communications Assistant based in the Democratic Republic of Congo.
More
Women around the world are in daily contact with natural resources as food and livelihood providers. Still, their role and knowledge in natural resource management are often not considered, according to an environment and gender report by IUCN. The analysis found that women's needs and role in biodiversity conservation policies and plans are also neglected.
Yet the world is evolving, as are the threats facing biodiversity. In the Bili-Uere Hunting Reserve (DCBU), a protected area in the heart of the Democratic Republic of Congo, women understand their role and are stepping forward to conserve nature.
"The wildlife conservation world is evolving, and we see that more and more women are attracted to the noble profession of eco-guards, which was once reserved for men," said Bernard Iyomi, head of the DCBU. "Between marginalization and sociocultural norms, [women] could not avoid breaking out of these two shackles," he continued.
The DCBU's four women eco-guards demonstrate incredible bravery in embracing their responsibility. "I chose to be an eco-guard because I play the role of species protector, [conserving] both fauna and flora and maintaining the stability of nature as well as life on earth," said Kubate Nyelepasi Marie, an eco-guard at DCBU.
The 30-year-old mother of four instills the same values in her children. "As the first educator of humanity, I play a very important role in environmental education at the grassroots level by guiding my children. Even after taking off my green uniform, I defend the rights of nature at home," Marie said.
"I am an eco-guard not by chance but because I understood that it is important to protect the environment. Without a healthy environment, it is impossible to live and survive," said 31-year-old eco-guard Walali Lindima Bijoux. A mother of three children, she added, "It is my maternal instinct that motivates me to go beyond my offspring to preserve the future of all beings on the planet."
Encouraging more women to contribute to conservation as eco-guards
Romain Kyandonghere, Deputy Site Director of the DCBU, noted the commitment and tenacity of the working mothers on the eco-guard team. "Seeing them defend the cause of nature conservation never ceases to encourage others to choose the same path," he said.
Indeed, to increase its ecological monitoring capacity, the DCBU, facilitated by African Wildlife Foundation (AWF) with funding from the European Union (EU), has launched the recruitment of 40 new eco-guard units in 2022. This new team includes two courageous women.
"As a result of this recruitment, we discovered the hidden talent of Marguerite Bilali Amayo, a 37-year-old married woman with four children, who had been working for five years as a maintenance officer in Bili for the Congolese Institute for Nature Conservation. She was dedicated and loved her work. Present at every morning parade, Marguerite took a liking to the conservation work and couldn't help but apply for new units," said Van Zigabe, Deputy Landscape Manager.
The bravery Bijoux and Marie demonstrate in their work has motivated other women living in the DCBU, inspiring them to join the fight to protect biodiversity as eco-guards.
"Every day, people repeat that it is women who give life. By participating in the patrols every morning, admiring the eco-guards Marie and Bijoux, I understood that it would not be appropriate for a woman to limit herself to giving life but also to preserve it. This is the real reason why I applied to become an eco-guard," said Marguerite.
"I still remember Wawali Lindima Bijoux very well. In November 2019, while returning from her 9-month maternity leave, she traveled 269 kilometers by motorcycle with her young son, leaving Bili to attend a wildlife law enforcement training organized by AWF in Buta," testified Joe Kassongo, AWF Legal Officer.
He continued, "She did not want to be trained less than her colleagues. She said, 'I have to keep on track; motherhood is not a handicap but rather an asset.'"
Women eco-guards like Bijoux and Marie are undoubtedly a beacon of hope for the future of conservation, which is waiting for women leaders to stand up for biodiversity conservation, securing a vital forest ecosystem and critically endangered species.
> In honor of International Women's Day 2023, AWF interviewed women wildlife rangers in Zimbabwe