Podcast series highlights AWF's "boots on the ground"
Podcast series highlights AWF's "boots on the ground"
By Terry Mukera | April 27, 2022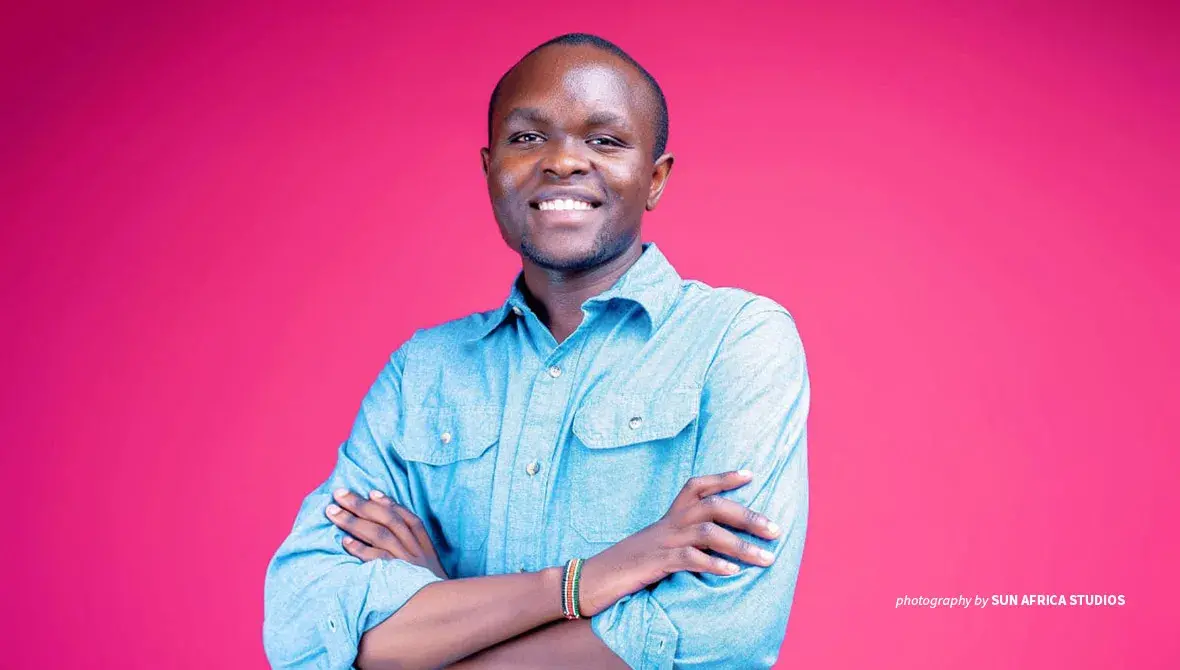 About the Author
Terry Mukera is African Wildlife Foundation's Editorial Associate. She helps to develop and write articles for AWF's publications like the Travel Africa magazine, and other print marketing products such as the annual report. Terry is passionate about storytelling and its crucial role i ... More
"In the quest to protect Africa's wildlife and wild places," a five-part series on the Boots on the Ground podcast, featured African Wildlife Foundation's wildlife law enforcement and wildlife ecology experts. Their conversations with podcast host Dibblex Lesalon, whose series guests included AWF's partners in the Tsavo landscape, explore our community conservation programs, counter wildlife trafficking efforts, and more.
Lesalon, trained and experienced in tourism management and hospitality in East Africa, launched Boots on the Ground — originally called the Travel Local podcast — in October 2020 after the COVID-19 pandemic stalled the wildlife tourism industry. Within the next four months, he had widened the podcast's scope from tourists and travel to include conservation practitioners and explore a range of topics related to biodiversity protection and climate change. He is one of the 2021 Kenyan Fellows of the inaugural African Conservation Voices Media Labs co-created by AWF and Jackson Wild with funding from the U.S. Agency for International Development.
Efforts to counter wildlife trafficking and include women in conservation
The first episode, "Fighting Wildlife Crime with Didi Wamukoya," focused on AWF's Director, Counter Wildlife Trafficking Program. Lesalon and Didi Wamukoya discussed her experience at the Kenya Wildlife Service, how she got into conservation, and her take on women's representation in conservation leadership in Kenya.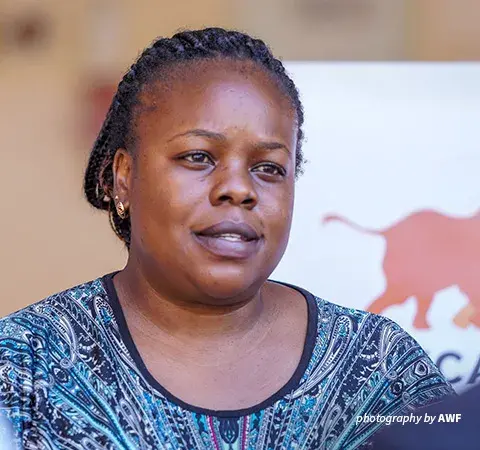 "One of the things I am most passionate about is conservation," she said. "My mother worked in the environmental sector at the United Nations Environment Programme, and during events like Christmas parties, I got to interact with some of her colleagues who were environmental lawyers. And I knew that was something I wanted to do, myself. I wanted to be, not just a lawyer, but an environmental lawyer."
She also detailed how AWF's wildlife law enforcement activities evolved into the current Counter Wildlife Trafficking Program. Apart from boosting the detection of illegal wildlife trafficking through the Canines for Conservation program, Wamukoya's team works closely with wildlife authorities to build the capacity of wildlife law enforcers, prosecutors, and investigators. Efforts lately have focused on emerging crimes, particularly wildlife cybercrime.
Wamukoya recalled her paramilitary training at Kenya Wildlife Service "as one of my most challenging experiences in wildlife law enforcement as a woman." She added, "The training is tough, and they don't see gender. You are treated like your male colleagues. But it helped me grow and learn. I think it is one of my most career-shaping experiences."
Perspectives from a wildlife ranger and conservancy coordinator in Tsavo
In the next episode of "In the quest to protect Africa's wildlife and wild places," Lesalon interviewed 30-year-old Dontillah Saru, who has worked in the LUMO Community Wildlife Conservancy for eight years as a community wildlife scout and is currently a corporal. The single mother of two grew up around wildlife and experienced first-hand the effects of human-wildlife conflict. Her secondary school education was made possible by bursaries her family received from revenue generated by LUMO, a wildlife conservancy comprising four group ranches.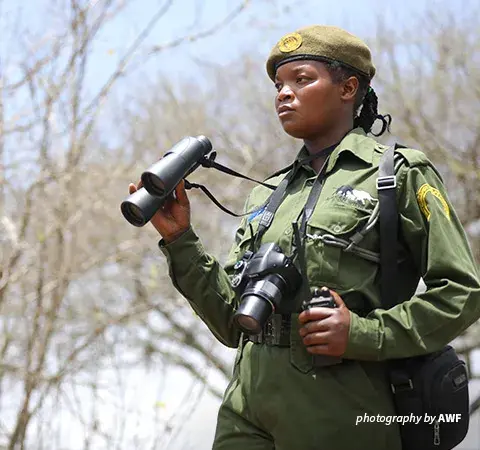 She soon became curious about how the conservancy was able to support her education. Despite the conflict she witnessed, both her love for wildlife and her desire to work at LUMO grew after visiting it with her father. So, on completing her secondary education, she became a ranger. Now, a corporal, she and her colleagues are on the frontline, fighting for the precious wildlife in the conservancy.
Speaking to Lesalon, she recounted her first encounter with a poacher during a patrol. She spotted the man chasing a warthog using a dog, but he hid when he saw the patrol vehicle. Saru blew her safety whistle, and her colleagues came to where the man was hiding. Later, officers from the Kenya Wildlife Service arrested him. "It felt so deadly, my heart was beating, and it made me realize the dangers that scouts and rangers encounter in the bush."
In the time she has worked as a scout, she has seen community attitudes towards wildlife and wild lands improve, reducing destructive activities like illegal grazing, poaching, and charcoal burning.
"It's important to include communities in conservation work because that is one of the mitigations of human-wildlife conflict, and these communities are also the immediate stakeholders of these wildlife sanctuaries and therefore, they need to enjoy the benefits of conservation work," said Saru.
"I would love to tell young girls who want a future in conservation, that vision is key. They could start with simply taking care of pets at home and build their passion of taking care of animals," she added.
Alfred Mwanake, a conservancy coordinator at Taita Taveta Wildlife Conservancy Association, one of AWF's partners in Tsavo, spoke to Lesalon in November 2021 about human population growth and declining wildlife habitats in the landscape. In the final episode of "In the quest to protect Africa's wildlife and wild places," they discussed how linking thriving wildlife populations to human livelihoods has helped communities to appreciate the importance of taking care of wildlife.
With a background in finance, Mwanake got into conservation when he was introduced to the ranches in Taita Taveta by the current chairman of the Taita Taveta Wildlife Conservancy Association. Mwanake's interest in conservation was sparked by the fact that both his parents worked in the tourism industry — his father being a hotelier and his mother a tour guide.
His work involves meeting with communities and partners to help people around the Taita Taveta Wildlife Conservancy adopt sustainable income-generating activities that support conservation. He also works with partners like AWF to give a voice to conservation work in Kenya and train community wildlife scouts to deal with poaching and human-wildlife conflict challenges.
"For you to better conserve wildlife, you have to look at the needs of the community," said Mwanake.
Exploring community conservation in Tsavo and Kenya's wildlife census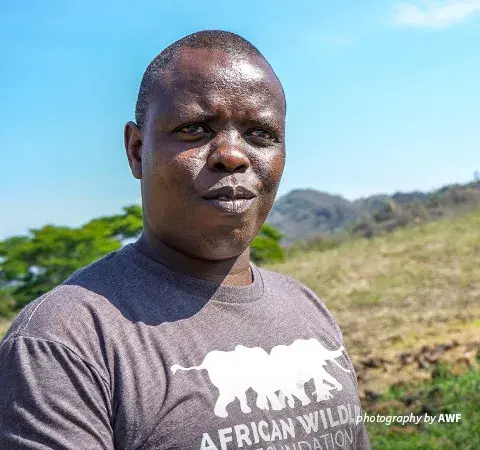 Lesalon's third episode in the series featured Kenneth Kimitei, AWF's Senior Landscape Ecologist in the Tsavo-Mkomazi landscape. He has 15 years of experience in wildlife conservation and management. Before joining AWF in 2015, he worked with the Kenya Wildlife Service in Marsabit as a research scientist. He worked in a similar capacity in the transboundary Kilimanjaro landscape initially, providing technical and advisory support to AWF teams and partners.
In his interview with Lesalon, Kimitei shared that even though he studied wildlife management at Moi University, it was not his first choice. He initially wanted to take a course in pure mathematics but when he learned that wildlife management also involved mathematics, more specifically biostatistics, he finished the course — and struck his passion for wildlife conservation.
It is the duty of human beings to take care of wildlife, Kimitei holds. This belief drives his work every day. Apart from his day-to-day activities coordinating AWF's community conservation initiatives in the Tsavo-Mkomazi landscape, he recently participated in Kenya's first national wildlife census, which he explains in detail in the second part of the interview."
If we fail to do anything or do little in conservation and in educating communities, then I don't see a future for wildlife, but if we put proper structures and do proper planning and engagement with the local communities to protect species and ensure that the communities benefit from wildlife, then I see a bright future," said Kimitei.
This article is made possible by the generous support of the American people through the United States Agency for International Development (USAID).
> Learn how AWF and Jackson Wild are supporting three Kenyan Fellows of the inaugural African Conservation Voices Media Labs