Technology, partnerships sharpen wildlife cybercrime investigations
Technology, partnerships sharpen wildlife cybercrime investigations
By Bridget Nasasira | August 5, 2021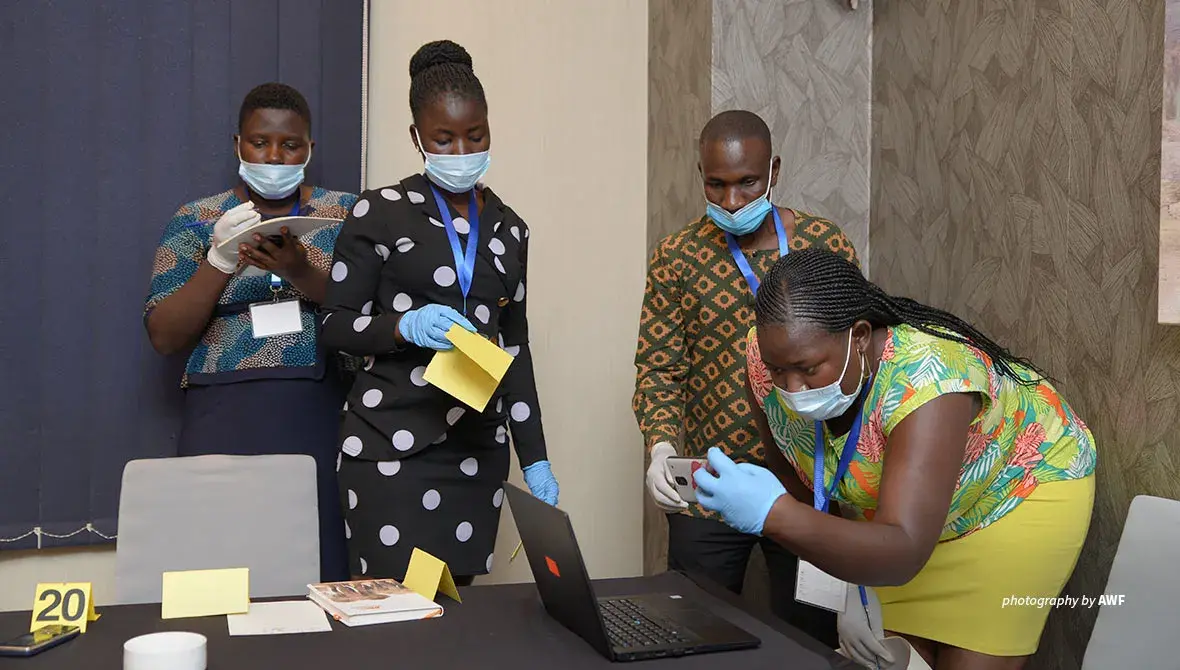 About the Author
Bridget Nasasira is AWF's Field Communications Intern based in Kampala, Uganda.
More
We live in a hyperconnected world and conduct a big portion of our lives via technological devices. The latest data from the U.N. International Telecommunication Union shows that global internet users total 4 billion, or half the world's population. Our work is online, our relationships are online, and so are our finances.
More insidious, the illegal wildlife trade has also moved online and the evidence is in the trends observed by security agencies across the world. A report released last year by the U.N. Office on Drugs and Crime states: "Organized criminal groups are increasingly using a range of online platforms and technologies to facilitate the transnational trafficking of wildlife products." Additionally, popular social media platforms are favored by criminal groups trading in wildlife contraband.
"This trade is particularly difficult to address due to its hidden nature, inconsistent regulatory frameworks, and limited specialised law enforcement capacities," states the report.
To mitigate rapidly evolving cybercriminal tactics, wildlife law enforcement agencies across Africa must adopt new measures. For instance, electronic evidence in the possession of the wildlife law offenders is often ignored at crime scenes, allowing cybercrime networks to continue undetected.
African Wildlife Foundation's Wildlife Cybercrime Investigation program combats cyber trafficking of illegal wildlife products, aiming to build a network of information sharing to support wildlife law enforcement in uncovering, investigating, and disrupting illegal trade in wildlife and wildlife products through online platforms. As part of this program, AWF held a training workshop in Kampala, Uganda, in April 2021 to upskill investigators from the Uganda Wildlife Authority.
"Efforts to stop trafficking of wildlife and wildlife products through traditional commerce have forced illegal trade networks to move trafficking activities onto the internet, and related social media platforms including the deep web, where buyers and sellers can maintain anonymity, far beyond the reach of traditional law enforcement efforts. This training will go a long way to build capacity and address those gaps," said Sudi Bamulesewa, AWF Country Director for Uganda.
The training, conducted in partnership with the Ugandan government and digital intelligence firm Cellebrite, successfully certified wildlife law enforcement officers from Uganda Wildlife Authority on mobile forensic investigations to enhance in-house investigation capacity in the context of illegal wildlife trade.
Trainers worked with Ugandan law enforcement officers to address any gaps and shortcomings of front line law enforcers as first responders to wildlife crime scenes containing digital and electronic evidence. They learned how to properly identify, acquire, store, and move digital evidence through proper chains of custody. They were also sensitized on incorporating digital evidence in routine investigations to achieve successful prosecution and deterrent sentencing.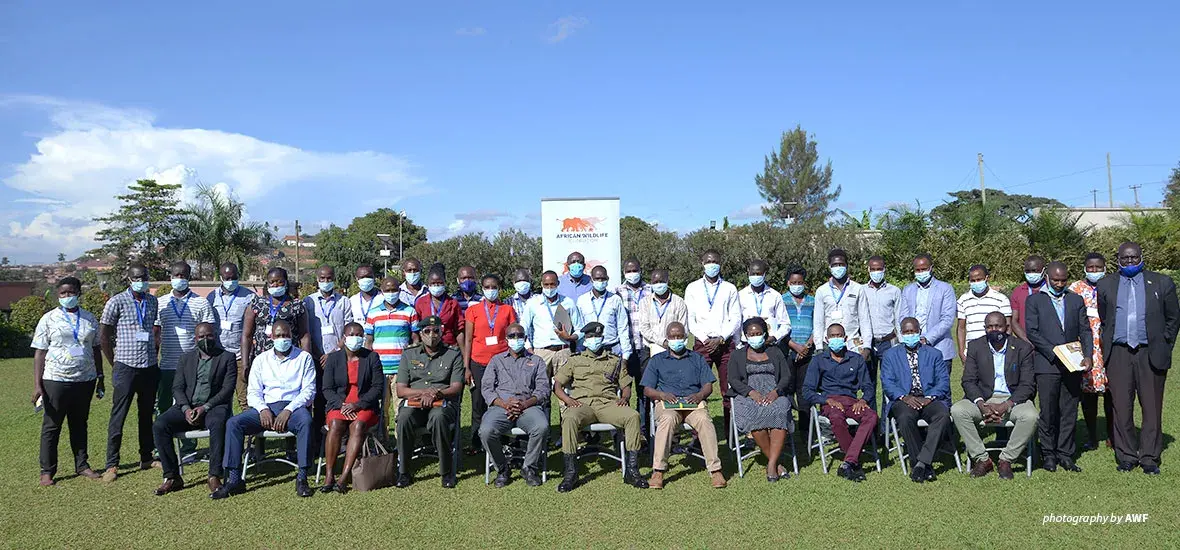 "The Ugandan Wildlife Authority handled over 400 cases of wildlife crime in 2019. Our officers however barely investigate wildlife cybercrimes because they lack the capacity. It is such trainings that gear towards enhancing law enforcement skills and learn cutting edge techniques in investigations that our officers need," said Bashir Hangi, communications manager of the wildlife authority.
According to TRAFFIC's Uganda Wildlife Trafficking Assessment Report of 2018, pangolins, birds (especially the grey crowned crane), rhinos, elephants, tortoises, and turtles are the most commonly trafficked species in Uganda. Pangolins are the most trafficked mammal on earth and are currently captured in Uganda and elsewhere in Africa for their meat, while their scales are shipped to Asia under the false belief that they have medicinal properties. In 2015, 2000 kg of pangolin scales were seized at Entebbe International Airport with 700 kg of ivory destined for Amsterdam.
Wildlife cybercrime capacity building in East Africa
AWF has conducted similar trainings in Kenya. In 2020, we worked with Cyber Security Africa and Cellebrite to deliver a Certified Cellebrite Mobile Examiner training to seven Kenya Wildlife Service investigators. The training was practical and hands-on, covering identification, seizure, and extraction of data from electronic devices. In June 2021, AWF held a digital forensics workshop for 23 senior investigators and intelligence officers from the wildlife management authority.
Our wildlife cybercrime program in Kenya also supports routine and special investigations in collaboration with the Kenya Wildlife Service. These efforts have led to the arrest of 34 suspects for bushmeat hunting and wildlife trophy related offenses. Twenty-two of those arrested were charged with possession of trophies including elephant tusks, hippo teeth, sandalwood, and python skins while the rest were charged with possession of bushmeat from various species including dikdik, impala, vulturine guinea fowl, lesser kudu, kori bustard, zebra, and warthog.
In Uganda, AWF has collaborated with the Uganda Wildlife Authority to conduct special investigations that have combined wildlife crime intelligence and investigations within Murchison Falls Conservation Area.
During one operation, 16 suspects were arrested, and 12 cases registered. The exhibits recovered during these investigations include 3.5 kg of dry pangolin scales dry, one motorcycle and 55 kg of bushmeat (water buck, buffalo, duiker, and Uganda kob). Also confiscated were seven fishing nets, 10 canoes, 17 oars, and six mobile phones. Two of these cases were convicted pending sentencing, four cases had the suspects released on police bond, while the other remained in lawful custody.
The cybercrime program has helped to create and strengthen partnerships between wildlife authorities as well as intelligence and investigations officials in both countries.
Ernest Agina, AWF's Cybercrime Investigations Manager, says the program is improving the quality of investigations and closing the cybercrime enforcement gaps in illegal wildlife trade across the East African region.
He added, "The focus on wildlife cybercrime has helped us identify the various tiers of illegal wildlife trade and map trends for enforcement forecasting and implementation of an approach that is intelligence-led. We gladly await reports of more success stories as mobile forensics are applied in the investigation of illegal wildlife trade."
> Learn how AWF supports canine detection units to intercept wildlife traffickers