Rafiki: Slain silverback is the hero of mountain gorilla tourism in Uganda
Rafiki: Slain silverback is the hero of mountain gorilla tourism in Uganda
By Harleen Sehmi | June 26, 2020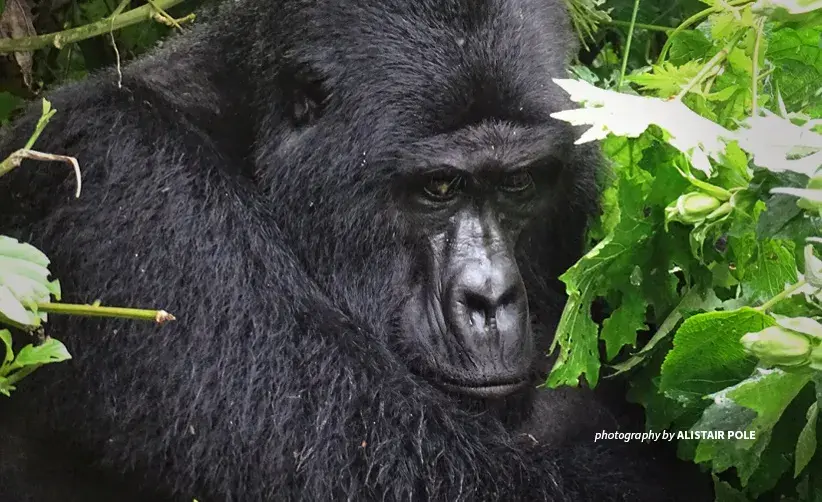 About the Author
Harleen Sehmi is the Senior Digital Content Officer at African Wildlife Foundation. She develops articles for AWF's website and publications, connecting audiences with the organization's work in diverse landscapes and showcasing the impact of community-centered conservation.
...
More
As the leader of the Nkuringo mountain gorilla family in Bwindi Impenetrable National Park, Rafiki was the gentle giant who protected his family of 17. He was speared and killed in an act of self-defense after accosting four poachers. They were in the park illegally to hunt bush pig, according to the official statement released on June 12, 2020 by the Uganda Wildlife Authority.
African Wildlife Foundation's Senior Vice President Craig Sholley spent much of his early career studying mountain gorillas inhabiting the Virunga Mountains in the Democratic Republic of Congo, Uganda, and Rwanda. He went on to lead successful species protection programs and partnerships that empowered local communities through innovative conservation enterprises. He met Rafiki on various expeditions in the Nkuringo area in the southern sector of Bwindi Impenetrable National Park, where AWF helped establish the community-owned Clouds Mountain Gorilla Lodge. Sholley reflects on the beginnings of mountain gorilla tourism in Uganda and the tragic loss of the beloved silverback Rafiki.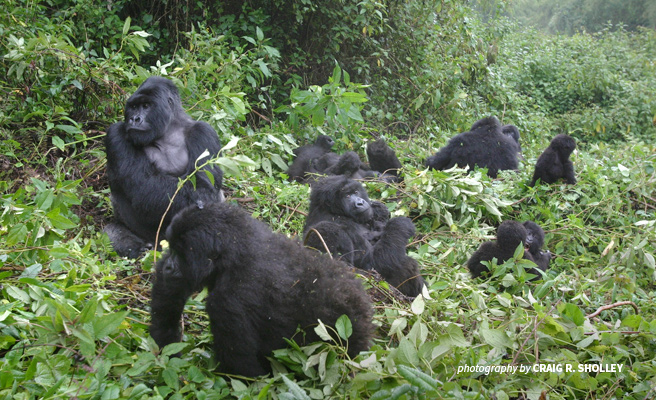 Losing the dominant silverback can cause a mountain gorilla family to disintegrate
What does Rafiki's death mean for his family and the people of Nkuringo?
The idea of someone going out into the forest, ending up in the midst of a group of gorillas and inadvertently killing Rafiki was shocking. I was sickened, and I was saddened. The Nkuringo group was the first to be habituated in the southern sector of Bwindi Impenetrable National Park, effectively opening up the area for mountain gorilla tourism. Over the years, the Uganda Wildlife Authority has been working very hard to secure the protected area, and there are lots of tourism enterprises creating jobs and other indirect benefits for local communities.
Rafiki was certainly a unique silverback; a very mellow, big, beautiful, and majestic male. I remember the first time I saw him while trekking the southern sector of Bwindi Impenetrable National Park about 10 years ago. We encountered the Nkuringo group very close to the edge of the forest. I was probably no more than 10 feet away from Rafiki as he was lying on his back. He leaned his head back and looked at me. Our eyes made contact — it is truly special when you stare into the eye of a mountain gorilla and you see an awful lot of you staring back.
As the only silverback in his family, Rafiki's loss could have dramatically negative impacts on the group. They are without a leader to protect the other members and keep the group intact. Many times, solitary silverbacks or another mountain gorilla group will interact with a family that has lost a silverback — especially if it was the only silverback — creating a lot of dynamic tension and eventually altering the group's structure.
Will human-wildlife conflict cases rise during the COVID-19 pandemic?
For the people living in and around the Nkuringo sector, the killing of Rafiki is equally shocking. The livelihood of that community is inextricably linked to gorilla tourism, so ultimately, this act not only has an impact upon the hunter — who has been sentenced and imprisoned — but it has horrific and potentially negative socio-economic impacts as well. The community has a long and historical connection to mountain gorilla tourism, cemented over the last two decades through substantial direct and indirect benefits from tourism-based enterprises in Nkuringo.
As is the case everywhere in Africa, communities whose livelihoods are linked to wildlife tourism are facing significant suffering and hardship during the COVID-19 pandemic. With no international visitors, low tourism revenues have strained wildlife management operations. This is reflected in fewer guards and guides in the forest on a regular basis. With less protection, the likelihood of serious and unfortunate events like Rafiki's killing rises.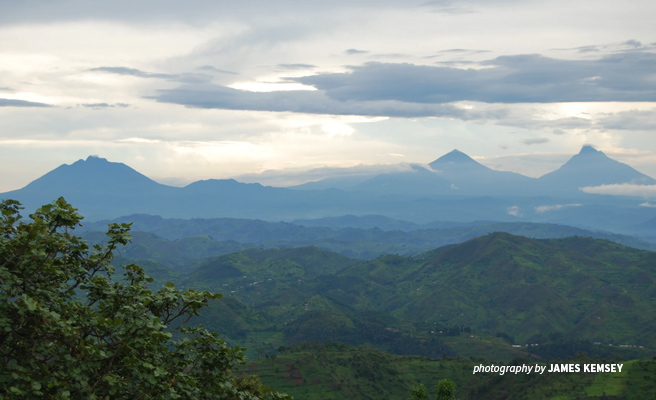 The community-owned Clouds Mountain Gorilla Lodge in Bwindi Impenetrable National Park overlooks the impressive Virunga Mountains
Clouds Mountain Gorilla Lodge is co-owned by the local community. How does this foster conservation?
Mountain gorilla tourism in Uganda actually began in the north of Bwindi Impenetrable National Park in an area called Buhoma. Twenty years ago, all of the mountain gorilla groups that were habituated in Bwindi were in the northern sectors of the protected area. Seeing how gorilla tourism had improved local economies in the north got communities elsewhere in Bwindi excited about becoming involved too. People from Nkuringo started lobbying for the establishment of mountain gorilla tourism in their area and AWF helped organize this group into a community trust, the Nkuringo Community Conservation Development Foundation. At the same time, we were working closely with the Uganda Wildlife Authority to habituate a group of gorillas in the south.
AWF was already a real innovator in the field of conservation enterprise, having established the one-of-a-kind Sabyinyo Silverback Lodge in Rwanda's Volcanoes National Park. To my knowledge, it was the first time that a conservation organization mobilized community members to create a trust allowing community representatives to select a private sector tourism partner and develop a high-end lodge that the community would own. We applied this successful model to set up Clouds Mountain Gorilla Lodge in the south of Bwindi Impenetrable National Park with support from the U.S. Agency for International Development. The Nkuringo Community Conservation Development Foundation partnered with an experienced tourism operator Wildplaces, ensuring that revenues flow via the lodge back into the community.
When I first encountered Rafiki and the Nkuringo group, it was the only mountain gorilla group habituated in the southern sector of Bwindi. As a result of the success of the lodge and the appeal of mountain gorilla trekking, there are now at least a half-dozen other mountain gorilla groups who are also habituated in this area.
Both in Bwindi Impenetrable National Park and Volcanoes National Park across the border, our pioneering work with local communities has helped them understand the link between their livelihoods and mountain gorilla tourism. The Sabyinyo Community Livelihoods Association, which owns the Sabyinyo Silverback Lodge in Rwanda, represents nearly 7,000 families neighboring the protected area. With incomes from the lodge as well as various livelihood development programs and welfare initiatives run by the association, members are less inclined to clear the forest or hunt bushmeat to make ends meet. This innovative model has created a cadre of conservation convertees. They become champions for conservation because they recognize that mountain gorillas are one of their most important assets and will work to protect them and maintain their natural habitat.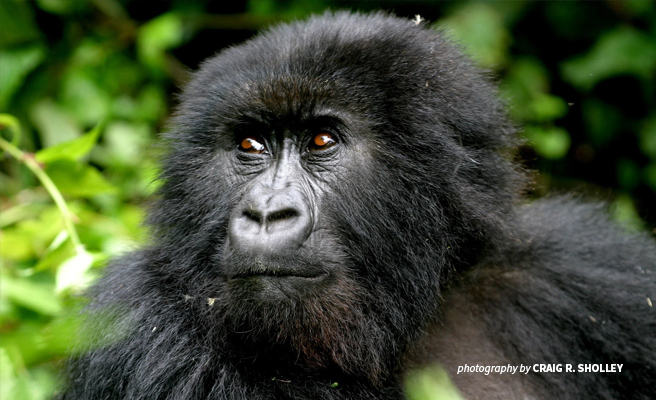 AWF has supported mountain gorilla conservation for more than four decades
Why is AWF committed to safeguarding mountain gorillas?
AWF has played a very significant role in mountain gorilla conservation for the last 45 years. In the early 1980s, we were at the cusp of creating a holistic approach in Rwanda that integrated wildlife monitoring, protected area management, and community conservation. The idea of mountain gorilla tourism was conceived during this time, alongside programs to educate communities about the benefits of embracing conservation enterprises.
The model, developed in Rwanda and replicated in Uganda, is successful from a conservation standpoint and also from a people standpoint. There were just 230 mountain gorillas in the 1980s but now numbers are in excess of 1000. Our interventions have helped tens of thousands of people near protected mountain gorilla habitat to benefit from conserving one of Earth's most iconic and majestic species. Applying these community-centered principles to conserve threatened wildlife and wild lands in Africa, and the rest of the world, can make an immense difference for global biodiversity protection and economic development.
Being in the midst of a mountain gorilla family is a wildlife encounter unlike anything you will experience anywhere in the world. If humankind cannot protect mountain gorillas, then the likelihood that we are going to protect the broader scope of global biodiversity is very slim. As we have learned over the last few months in particular, biodiversity is extraordinarily important. It is directly linked to humankind's future — that is why it is important for us all to protect mountain gorillas.
> Learn how AWF helped expand Volcanoes National Park to safeguard mountain gorilla habitat in Rwanda