Organizational Updates
AWF 60th Anniversary and Mkapa Wildlife Photography Exhibition Premieres in Tanzania
General Inquiries
Tel:+254 711 063 000
Ngong Road, Karen, P.O. Box 310
00502 Nairobi, Kenya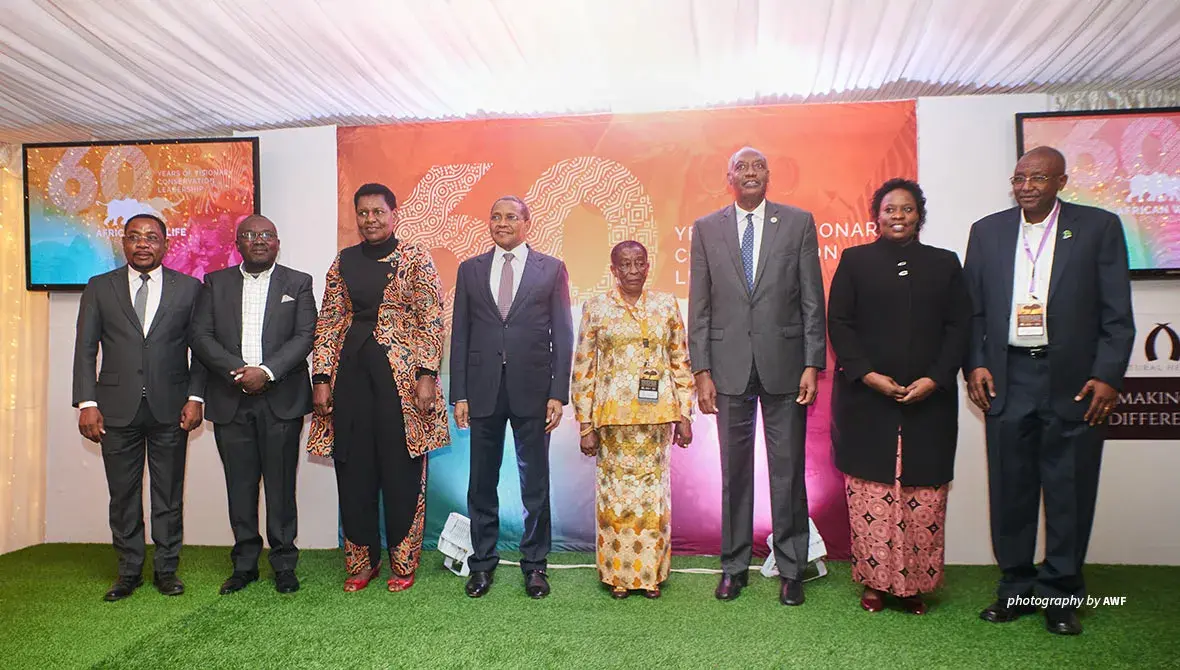 (ARUSHA, TANZANIA — July 1, 2022) The African Wildlife Foundation (AWF) in partnership with Nature's Best Photography on July 1, 2022 hosted the Benjamin Mkapa African Wildlife Photography Awards Exhibition in celebration of AWF's 60th anniversary in Arusha, Tanzania. The prestigious event was held at the Arusha Cultural Heritage Centre and was graced by former President of Tanzania H.E. Dr. Jakaya Kikwete and former first lady of Tanzania and widow to the late H.E. Benjamin Mkapa, Mrs. Anna Mkapa.
Also in attendance were current members of the Tanzanian cabinet, including ministers for land, tourism, and education, various permanent secretaries, members of the diplomatic corps, and development partners.
The Benjamin Mkapa African Wildlife Photography Awards are named after the late H.E. Benjamin Mkapa, one of Africa's most beloved leaders, who was the President of Tanzania from 1995 to 2005, and AWF's longest-serving trustee. Having begun his career as a journalist, he was widely respected for his legacy of protecting Africa's wild heritage and telling authentic stories from the continent. The Mkapa Awards were launched in 2021 to celebrate AWF's 60th anniversary.
"Mzee Benjamin Mkapa was indeed an excellent leader. Among the many qualities he embodied are his love for conservation and African leadership. These two areas are now more critical than ever, as we experience first-hand how Africa's development is being challenged by climate change, food insecurity, widespread poverty and so much more. Africa needs leadership that understands these challenges and takes advantage of the opportunities they present for socio-economic transformation and the development of our countries," said H.E. Dr. Kikwete.
Mrs. Anna Mkapa celebrated her late husband as a visionary and kind leader committed to the prosperity of Tanzania and the continent as a whole.
"Together, we celebrate a very special man who was not only my husband, but a beacon of inspiration and a global icon. From the different corners of the world, it is magnificent to see the participation that these awards have inspired, and to realize the impact that one individual can have. Let it be a lesson to us all as we pursue our own passions. One person truly can make a huge difference," said Mrs. Mkapa.
AWF was founded in 1961, kicking off its operations with the establishment of the College of African Wildlife Management in Mweka, Tanzania in 1962 to provide practical skills training for protected area managers. To date, Mweka College has trained 9,000 students from 28 African countries as well as from 24 other countries globally. Currently the college has an active population of 900 students. AWF's work in Tanzania has since broadened to include anti-poaching efforts, habitat reclamation, and sustainable livelihood projects.
"Armed with 60 years of experience, AWF has renewed its vision, and revised our strategic approaches to become a truly global African conservation organization. Our strategic vision is responsive to the realities around us — including climate change and a global pandemic — and puts African leadership and ownership at the heart of all conservation interventions," said AWF CEO Kaddu Sebunya.
The Mkapa Awards photography exhibition, now displayed at the Arusha Cultural Heritage Centre, will be open to the public from July 1 to August 31, 2022, after which it will be displayed in Kigali, Rwanda. It showcases photographs of Africa's diverse ecosystems and aims to encourage Africans to become advocates for conservation and sustainable development.
Through the art of photography and video, the Mkapa Awards inspire photographers from Africa and around the world to share images and stories from Africa and to encourage new advocates for positive conservation change.
About African Wildlife Foundation
AWF is the primary advocate for the protection of wildlife and their habitats as an essential part of a modern and prosperous Africa. Founded in 1961 to focus on Africa's conservation needs, we articulate a uniquely African vision, bridge science, and public policy, and demonstrate the benefits of conservation to ensure the survival of the continent's wildlife and their habitats. AWF is serving as a co-convener of the inaugural African Protected Areas Congress (APAC) in Kigali, Rwanda from July 18-23, 2022.
MEDIA CONTACT: For more information and to arrange interviews contact Wambui Odhiambo, AWF Media Specialist, at wodhiambo@awf.org