Press Release
AWF and Partners Champion Study Showing Great Apes to Lose 90% of Homelands in Africa
General Inquiries
Tel:+254 711 063 000
Ngong Road, Karen, P.O. Box 310
00502 Nairobi, Kenya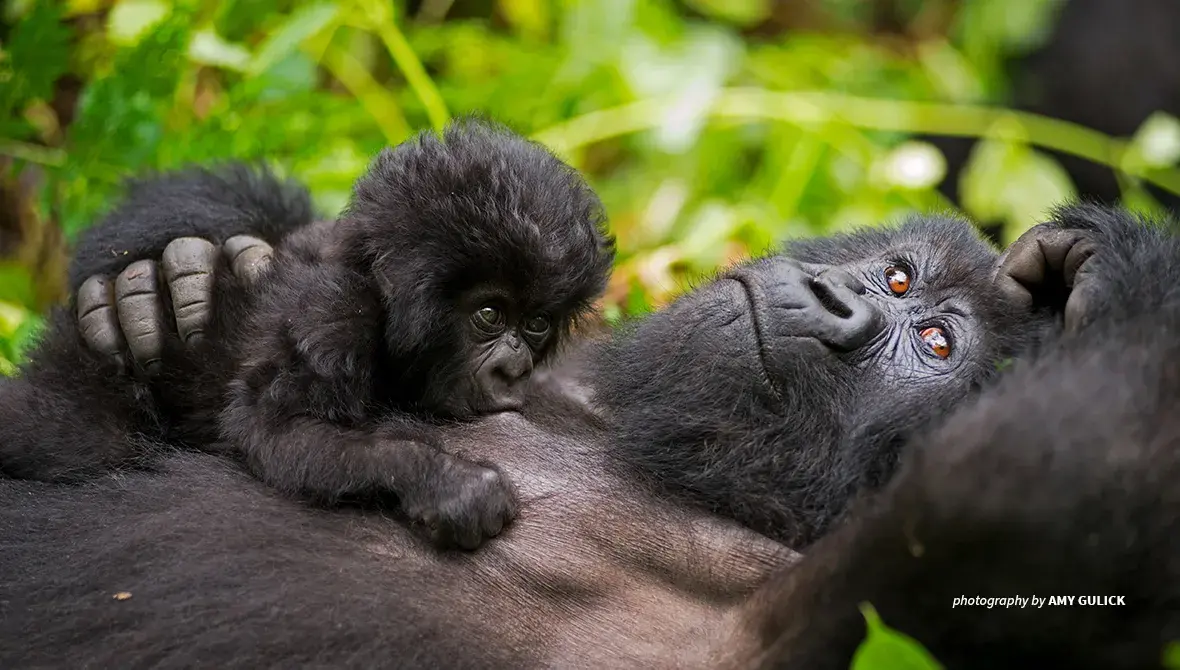 NAIROBI, KENYA AND WASHINGTON D.C. (JUNE 23, 2021) — A recent study conducted by a global team of researchers predicts massive range declines of Africa's great apes — gorillas, chimpanzees, and bonobos — due to the impacts of climate change, land-use changes, and human population growth.
The study which has been published in the journal Diversity and Distributions was based on an analysis of compiled information on African ape occurrence held in the International Union for Conservation of Nature's apes database (IUCN SSC A.P.E.S.) a repository that includes a remarkable amount of information on population status, threats, and conservation for several hundred sites, collected over 20 years.
This inaugural study quantifies the effects of climate, land use, and human population changes on African ape ranges for the year 2050 under two scenarios. The worst-case scenario assumes that human activities will continue unchecked while the best-case scenario is reliant on slow declining carbon emissions and adherence to appropriate mitigation measures.
Further, under the best-case scenario, the authors predict that great apes will lose 85 percent of their range, of which 50 percent will be outside national parks and other areas protected by legislation. Under the worst-case scenario, they predict a 94 percent loss, of which 61 percent will be in areas that are not protected.
Most African apes live outside of protected areas. They have a low dispersal capacity due to their small population sizes, low population densities, dietary requirements, and poor thermoregulation.
The paper assesses that the great apes can disperse away from their current habitats if they can physically move from the lowland areas to the mountains. However, in the event of climate change, the mountains will become less suitable for these animals.
AWF Senior Conservation Scientist, Nakedi Maputla, who was one of the contributing authors in the study said, "In general, the persistence of great apes and other species into the future will depend on how humans balance development, food security, and conservation of functional ecosystems coexist in harmony alongside the associated benefits to human wellbeing in light of a changing climate: a state which brings with it lots of unpredictability."
All African great apes are classified on the International Union for Conservation of Nature's Red List of Threatened Species either as endangered (mountain gorillas, bonobos, Nigeria-Cameroon chimpanzees, eastern chimpanzees, and central chimpanzees) or critically endangered (Cross River gorillas, Grauer's gorillas, western lowland gorillas, and western chimpanzees). All are regarded as flagship species for conservation.
The authors argue that effective conservation strategies require careful planning for each species that focuses on both existing and proposed protected areas – the creation and management of which can be informed by these habitat suitability models. Additionally, efforts to maintain connectivity between the habitats predicted to be suitable in the future will be crucial for the survival of African apes. Conservation planners urgently need to integrate land-use planning and climate change mitigation and adaptation measures into government policy of great ape range countries.
The study highlights the need for urgent action to combat both biodiversity loss and climate change if great apes are to continue into the future. Governments must protect and conserve the habitats of great apes—where they are now, and where they will need to move. Governments attending the upcoming Convention on Biological Diversity CoP15 in September and the UN Climate Change Conference in November should adopt meaningful commitments to protect and conserve great apes and their habitats and combat climate change.
The study was conducted by over 60 co-authors from various academic and non-governmental organizations. Some of these included the Antwerp Zoo Society, the Born Free Foundation, the Chimbo Foundation, the Rio Tinto Royal Society for the protection of Birds, and the San Diego Zoo Wildlife Alliance.
About African Wildlife Foundation
The African Wildlife Foundation is the primary advocate for the protection of wildlife and wild lands as an essential part of a modern and prosperous Africa. Founded in 1961 to focus on Africa's conservation needs, we articulate a uniquely African vision, bridge science and public policy, and demonstrate the benefits of conservation to ensure the survival of the continent's wildlife and wild lands.
MEDIA CONTACT: For more information about the great apes study contact Wambui Odhiambo at wodhiambo@awf.org.