Press Release
AWF Drives Support for 3 Key US Biodiversity Conservation Policies
General Inquiries
Tel:+254 711 063 000
Ngong Road, Karen, P.O. Box 310
00502 Nairobi, Kenya
WASHINGTON, D.C. AND NAIROBI, KENYA (September 13, 2021) – Governments, international institutions, and NGOs are demanding more attention on global solutions for biodiversity loss in places where human activity is encroaching on natural landscapes and threatening endangered species. African Wildlife Foundation (AWF) and partner Care2 announced today a new conservation advocacy campaign: "Biodiversity is for all of us."
Because climate, water, food, energy, and health all depend on biodiversity, nature's contributions to people are critically important. Natural capital contributes an estimated USD $125-140 trillion per year to the global economy, over half the world's GDP. From crop pollination to carbon sequestration, human prosperity is integrally linked with healthy, balanced ecosystems. Wildlife conservation is the linchpin.
AWF Global Leadership Director Edwin Tambara said: "Preventing global biodiversity loss will require U.S. policies that strengthen international conservation efforts protecting endangered species. Thriving wildlife and wild lands are compatible with sustainable development in conservation community areas. They go hand in hand. However, the intricate webs comprising healthy ecosystems include a wide array of lesser-known species, which also face challenges.  That's why AWF and Care2 are shining a light on efforts by lawmakers to help conserve small taxa species such as amphibians, in addition to captive primates and other critically endangered animals."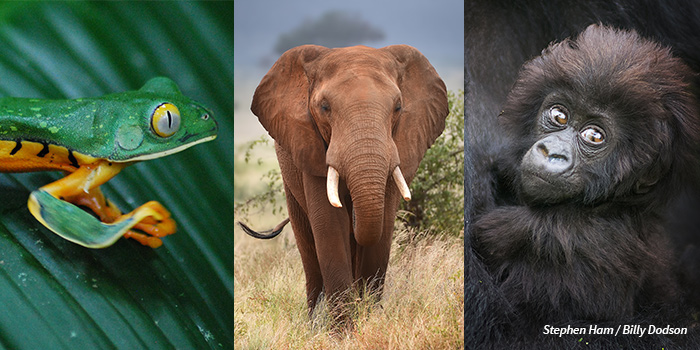 U.S. Representative Hakeem Jeffries (D-NY) said: "Protecting our planet's amphibians requires strong support, including by lawmakers here in Congress. We can no longer ignore the very real threat to the survival of these essential species, and in turn, the threat to ecosystems around the globe. It is time we commit to conserving them. I am proud to have introduced this common-sense, bipartisan legislation with my colleagues Jared Huffman, Brian Fitzpatrick, and Vern Buchanan."
With many African countries and frontline conservation communities still reeling from pandemic-related challenges, the new online campaign supports stronger protections and conservation of endangered species in three categories, underscoring diverse wildlife as a fundamental driver of all economic activity and human wellbeing. AWF and Care2 are asking conservation advocates and concerned parties worldwide to call on U.S. lawmakers to expand support for three bills currently under consideration in the U.S. House of Representatives, including:  
H.R. 2026 - Global Amphibian Protection Act of 2021 (Rep. Hakeem Jeffries, D-NY), designed to assist in the conservation of highly endangered amphibian species in foreign countries, and for other purposes.
H.R. 1569 - Critically Endangered Animals Conservation Act of 2021 (Rep. Jared Huffman, D-CA), provides statutory authority for the Critically Endangered Animals Conservation Fund, which finances a grant program to protect critically endangered species. Specifically, the bill requires the Department of the Interior to establish the fund as a separate account in the Multinational Species Conservation Fund.
H.R. 3135 - Captive Primate Safety Act (Rep. Earl Blumenauer, D-OR), designed to amend the Lacey Act Amendments of 1981 to prohibit importation, exportation, transportation, sale, receipt, acquisition, and purchase in interstate or foreign commerce, or in a manner substantially affecting interstate or foreign commerce, or possession, of any live animal of any prohibited primate species.
Visit AWF and Care2 "Biodiversity is for all of us" campaign to help advance these key pieces of U.S. legislation
About African Wildlife Foundation
The African Wildlife Foundation is the primary advocate for the protection of wildlife and wild lands as an essential part of a modern and prosperous Africa. Founded in 1961 to focus on Africa's conservation needs, we articulate a uniquely African vision, bridge science, and public policy, and demonstrate the benefits of conservation to ensure the survival of the continent's wildlife and wild lands.
MEDIA CONTACT: For more information about how AWF advocates for U.S. legislation supporting international conservation, endangered species, preventing biodiversity loss, and ongoing efforts to inform wildlife crime law enforcement and US pandemic prevention policy, contact Patrick Mitchell of AWF in Washington, D.C. at pmitchell@awf.org or (202) 991-7508.