Kidnapped baby chimp rescued from the illegal pet trade
Kidnapped baby chimp rescued from the illegal pet trade
By Manfred Aimé Epanda | September 25, 2019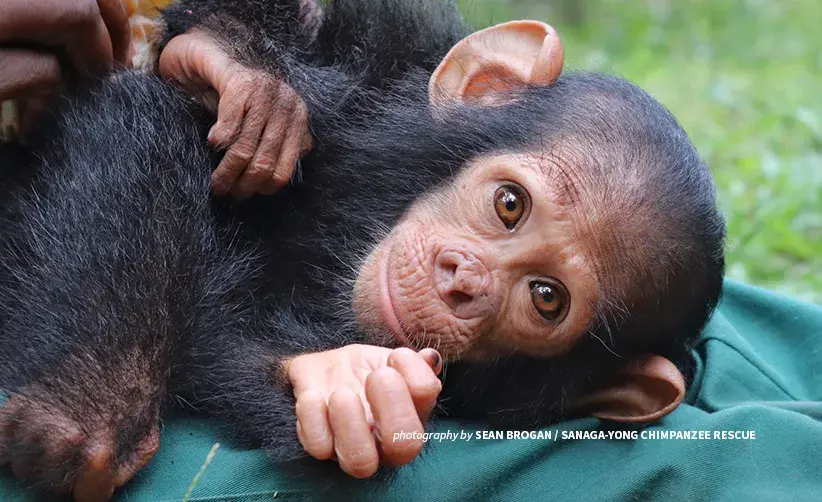 About the Author
Manfred Aimé Epanda is the former Country Coordinator of African Wildlife Foundation's operations in Cameroon. His experience with community conservation and the sustainable use of natural resources extends from the grassroots and national level up to the regional level in the Congo Basin. He is ... More
Springing from Dja Faunal Reserve's dense rainforest, Bouamir is one of the largest and most iconic outcrops in this 5,260 sq. kilometer protected area in southern Cameroon. It is also home to the landscape's great apes, so when a baby chimpanzee was discovered alone in an abandoned house in the nearby village of Nemeyong she was named after the great rock Bouamir as a symbol of her resilience.From the community members who reported the suspicious house to the rangers on patrol who found her tethered and the students who christened her Bouamir, the June 2019 rescue mission to save the chimp from years of captivity and abuse — or even death — was no small feat. Bouamir, 10-months-old at the time of her rescue, now lives at Sanaga-Yong Chimpanzee Rescue, a sanctuary in Mbargue Forest. She joins more than 70 other chimpanzees — all survivors of the brutal poaching and the illegal wildlife trade threatening Cameroon's chimpanzees.
Working closely with Cameroon's Ministry of Forestry and Wildlife, African Wildlife Foundation not only helped rescue and deliver Bouamir to her new home in eastern Cameroon, but as part of AWF's anti-poaching efforts in Dja Faunal Reserve, we also facilitate the community vigilance committees that tipped off the Conservation Service rangers and led them to the house in Nemeyong. As a critical biodiversity haven in the Congo Basin, Dja Faunal Reserve is a priority conservation landscape for AWF. The protected area is also a U.N. Educational, Scientific and Cultural Organization World Heritage Site, earning this status for its variety of wildlife species and its tropical rainforest ecosystem. However, species decline continues and increasing anthropogenic pressure at the periphery of the reserve drives habitat loss. As the forests become increasingly fragmented and degraded by growing settlements and infrastructure development, key populations of the endangered chimpanzees and critically endangered western lowland gorillas, as well as the African forest elephant are still being poached for the commercial bushmeat and illegal wildlife trade.
Infant chimpanzees like Bouamir — only 10 months old when she was rescued — are captured by poachers and traffickers for the live animal trade. They spend most of their lives in cages, serving as entertainment animals within Cameroon; increasingly, they are smuggled overseas as exotic pets or destined for unethical foreign zoos where they suffer malnutrition and deplorable living conditions. The quest for an infant chimpanzee is ruthless — poachers often have to kill its mother leaving the infant defenseless while the rest of the chimpanzee family is dispersed in the attack. At Sanaga-Yong Chimpanzee Rescue, Bouamir gets round-the-clock support from a caregiver who feeds her baby formula every three hours and also makes sure her physical and social development are on track despite the loss of her mother. The rope cuts on her waist are healing and she is gaining weight.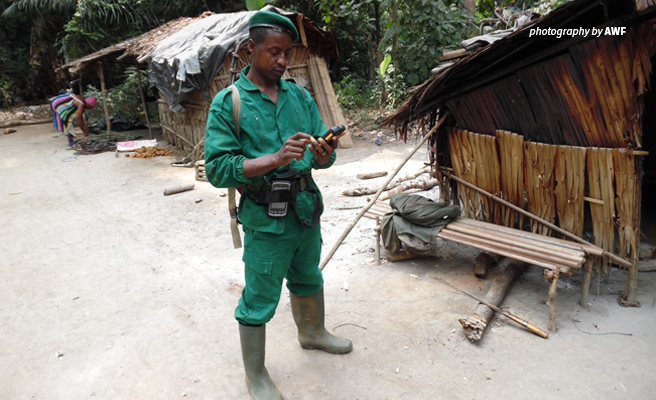 Anti-poaching rangers in the Dja Faunal Reserve use ecological monitoring data to streamline patrols
Communities take part in chimpanzee conservation
Routine anti-poaching patrols at the periphery of the Dja Faunal Reserve are critical for monitoring the routes poachers tend to use to smuggle their products out of the protected area. AWF supports the Ministry of Forestry and Wildlife by boosting rangers' skills and equipping patrol teams with CyberTracker technology and the Spatial Monitoring and Reporting Tool (or SMART) to streamline anti-poaching efforts across the large area they protect. However, our years of experience in the landscape confirm that community participation in conservation activities delivers better results for species protection and sustainable development.
It is not uncommon to find that villagers are roped in to kill the wildlife or smuggle the contraband through the forest to make ends meet. Through our partnership with the Ministry of Forestry and Wildlife, we have set up 17 community vigilance committees. Thanks to reliable community intelligence on the day that Bouamir was rescued, patrol rangers changed course to the Nemeyong house before it was too late, saving her from an almost certain gruesome fate.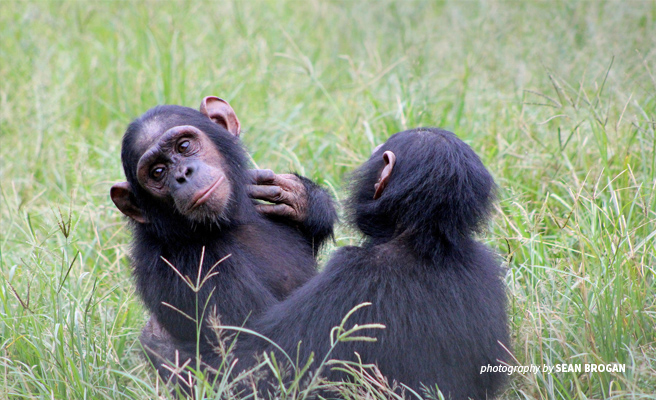 Sanaga-Yong Chimpanzee Rescue rehabilitates chimpanzees that have survived the live animal trade and illegal wildlife trade
Community livelihoods in many rural areas in Cameroon are based on a combination of small-scale agriculture, livestock rearing, hunting, and fishing. Outside Dja Faunal Reserve, AWF works with communities to develop alternative sources of income that align with conservation values, including sustainable cocoa farming, collecting non-timber forest products for the food and cosmetics industry, as well as creating traditional handicrafts for local markets. An extensive survey of the households at the northern border of the reserve explored the linkage between their perception of wildlife, livelihood improvement, and their likelihood to stop poaching. Interestingly, the researchers found that people sustainable livelihoods who do not have a positive attitude to wildlife might not reduce their poaching significantly.
As such, it is vital to cultivate a greater awareness of the wildlife species and habitats protected in the reserve. The Dja eco-club that christened Bouamir was founded to bring the community's youngest members closer to the wildlife they neighbor. Many of the primary and secondary school children had not seen a chimpanzee until they participated in the club's environmental program. In just four years, over 1,000 children have traveled from Dja to zoos in Yaoundé to witness the marvels of the country's wildlife. They are the future generation of African conservationists around the Dja Faunal Reserve — empowering them is the next step in securing this essential forest ecosystem and bringing prosperity to their communities.
> Learn how women-owned sustainable forest enterprises safeguard Dja's natural resources and improve livelihoods