AWF Hands Over Counter Wildlife Trafficking Equipment to KWS
Organizational Updates
AWF Hands Over Counter Wildlife Trafficking Equipment to KWS
General Inquiries
Tel:+254 711 063 000
Ngong Road, Karen, P.O. Box 310
00502 Nairobi, Kenya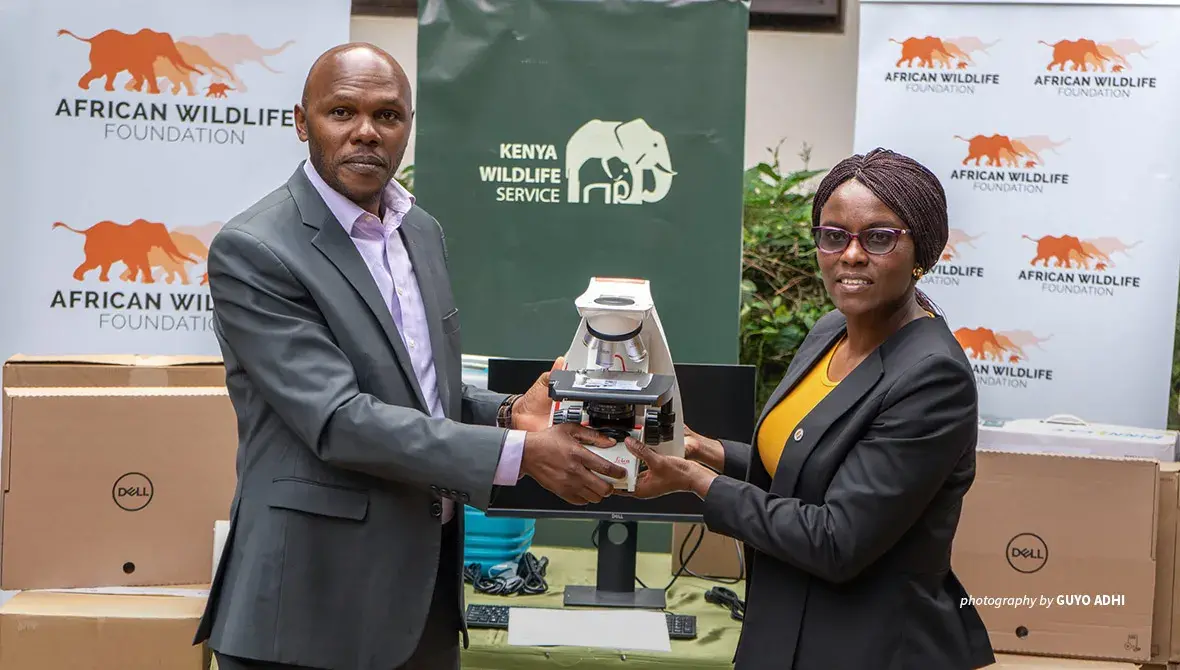 (NAIROBI, KENYA — April 11, 2022) The African Wildlife Foundation (AWF) donated an array of forensic investigation equipment and accessories aimed at bridging the resource gap that most trained experts have identified as high-priority items. The equipment, worth US$ 33,526 consists of additional fully fitted forensic workstations, safes, weighing scales, engraving machines, and deep freezers, alongside other items to the Kenya Wildlife Service (KWS) Security Division at their headquarters in Nairobi, Kenya.
AWF is currently collaborating with KWS on four major projects to combat the illegal wildlife trade, with the Wildlife Cybercrime Investigation Program funded by the Batten Foundation being one of the highlighted programs at the handover. Part of capacity building has included training and certification of seven KWS officers on Cellebrite (an important tool used for extracting digital evidence from mobile devices and computers) with two officers, Paulyne Opiyo and Michael Odongo, receiving their official certification of completion and merit at the handover.
"We are modernizing our operations and we want to be more robust in collecting and processing digital information, and we are grateful for the support we have been receiving from the African Wildlife Foundation and the other supporting partners. As we continue to succeed in curbing poaching in the country, we cannot ignore other challenges in the country such as human-wildlife conflict, so we need to leverage this new equipment to address these issues in their entirety," Edwin Wanyonyi, KWS Director of Partnership and Enterprise, said at the handover ceremony.
In a bid to narrow the gap in evidence management, AWF is actively working with KWS to expand the evidence storage room donated in 2019 by building additional evidence rooms across five identified hotspot regions within the country: Laikipia, Isiolo, Kajiado, Tsavo, and Narok. This project is funded by the U.S. Bureau on International Narcotics and Law Enforcement (INL) and AWF is committed to seeing this to completion in the next few months. Several office furnishing items have thus been donated toward this project.
"AWF recognizes that conserving wildlife and wildlands requires a multiple-pronged approach including counter wildlife trafficking and none of us can do it alone. We are committed to supporting KWS to build capacity. This is a continuous process, and we are encouraged to see that the 24 trained officers, through AWF support, have further trained 108 officers in the collection and handling of digital and electronic evidence. Kenya is well known to set the pace and standards in this sector, and we all must uphold this recognition," Nancy Githaiga, AWF Country Director, Kenya emphasized.
AWF also donated more equipment to support proper evidence storage under the Wildlife Trafficking Evidence Security and Destruction Project funded by INL in five priority sites.
Additionally, KWS and AWF are working in collaboration with the International Fund for Animal Welfare (IFAW) to support the review of the curriculum administered at the KWS Law Enforcement Academy. Currently, KWS is piloting the new curriculum with a cohort of 137 trainees undergoing a ranger to corporal promotion course. As this curriculum focuses on practical skills transfer, AWF has donated a comprehensive scene of crime kit for use as a training aid in the scene of crime management course as well as microscopes for use in the species identification course.
Undoubtedly, KWS continues to be a leader on the continent in combating illegal wildlife trade, and AWF is keen to continue supporting KWS in their efforts through our various programs including support to the KWS Canine Unit and support for landscapes and species conservation work in Kenya.
About African Wildlife Foundation
The African Wildlife Foundation is the primary advocate for the protection of wildlife and wildlands as an essential part of a modern and prosperous Africa. Founded in 1961 to focus on Africa's conservation needs, we articulate a uniquely African vision, bridge science, and public policy, and demonstrate the benefits of conservation to ensure the survival of the continent's wildlife and wildlands.
MEDIA CONTACT: For more information and interviews, contact Wambui Odhiambo, AWF Media Specialist at wodhiambo@awf.org