Organizational Updates
AWF Opens New Office During Bili Uélé Landscape Conservation Strategy Workshop
General Inquiries
Tel:+254 711 063 000
Ngong Road, Karen, P.O. Box 310
00502 Nairobi, Kenya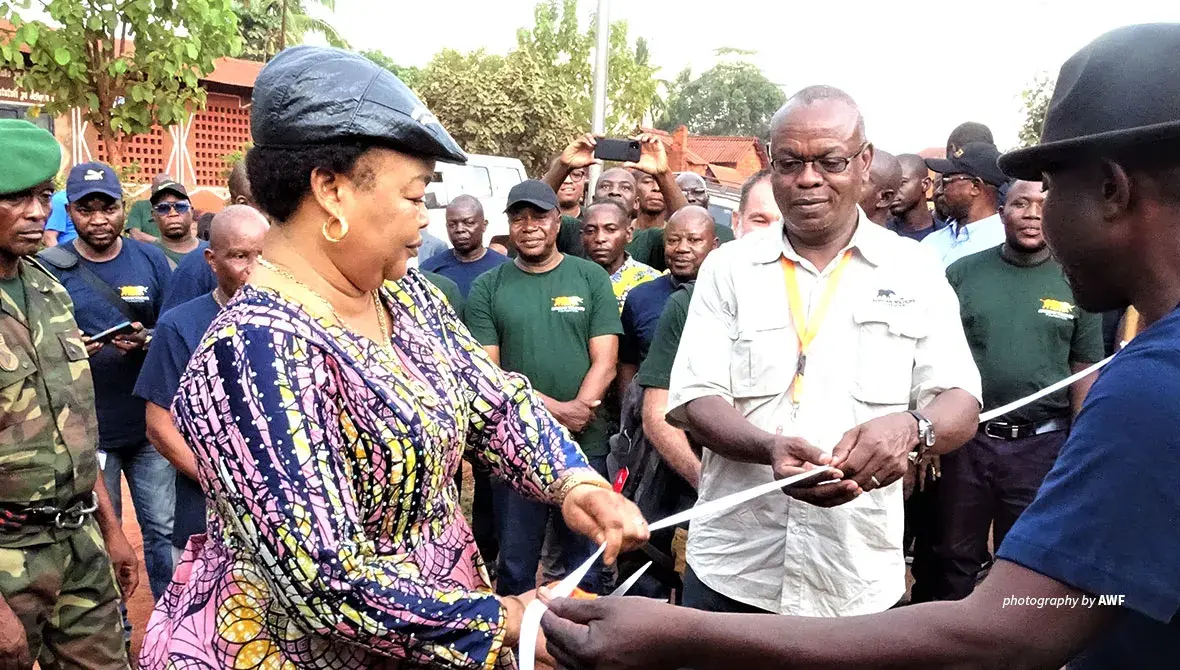 The African Wildlife Foundation (AWF) has opened a new office in Buta, the capital of Bas-Uélé province, in the Democratic Republic of Congo. The ribbon-cutting ceremony took place on April 13, 2022 and was presided over by the Acting Governor of Bas-Uélé Ruth Gbaduli demonstrating the collaboration between AWF and the provincial government.
"I wish you success in all the activities you are implementing in my province and I hope that AWF will continue to work with us to contribute to the conservation of our beautiful landscape of Bili-Uélé," she said.
Leading the AWF delegation at the ceremony was Vice President of Species Conservation and Science Philip Muruthi. The office in Buta will serve as a logistical base for AWF and the government authority mandated with the protection and conservation of the country's protected areas, the Institut Congolais pour la Conservation de la Nature (ICCN). AWF works with ICCN and other partners to implement conservation activities in the biodiversity-rich Bas-Uélé province, under the funding of the European Union's Preserving Biodiversity and Fragile Ecosystems in Central Africa program (also known as ECOFAC 6).  
Through ECOFAC 6, AWF is working to promote community-based approaches to sustainable natural resource management. This includes strengthening Local Conservation Development Committees (LCDCs), which champion conservation initiatives in the landscape by creating awareness and providing platforms for community members to contribute to conservation. To extend the reach of this awareness, AWF built a radio and made it available to the local community of Bili-Uélé. AWF has also improved community water access by rehabilitating and building wells and drinking water sources which have significantly reduced incidences of water-borne diseases.
In addition to this community-based approach, AWF supports ICCN in the fight against wildlife crime and built the capacity of eco-guards to conduct ecological monitoring, which has revealed the presence of more than 500 animal species, including a population of 1525 chimpanzees and 144 elephants.
Accessibility is one of the biggest challenges in implementing conservation interventions in this isolated landscape, making it difficult to smoothly transport goods and personnel where they are most urgently needed. An office in Buta is a significant first step towards solving this challenge due to its strategic location, opening up Bili Uele to other parts of the country.
The opening of the Buta office came at the tail end of a participatory planning workshop for the Bili-Uélé Landscape Conservation Strategy, which took place from April 11-13, 2022. This workshop brought together different stakeholders, including ICCN, members of the provincial government (the governor, provincial deputies, provincial ministers), representatives of decentralized territorial entities (territory administrators, chiefs of chieftaincy), transhumant herders, as well as representatives of international NGOs and local associations.
 The multi-stakeholder workshop is an opportunity for AWF to collaboratively refine its conservation approach in the landscape and will serve as a dashboard and reference tool for the design and implementation of activities in Bili-Uélé.