AWF's Dja Landscape Strategy Kicks Off in Cameroon
Organizational Updates
AWF's Dja Landscape Strategy Kicks Off in Cameroon
General Inquiries
Tel:+254 711 063 000
Ngong Road, Karen, P.O. Box 310
00502 Nairobi, Kenya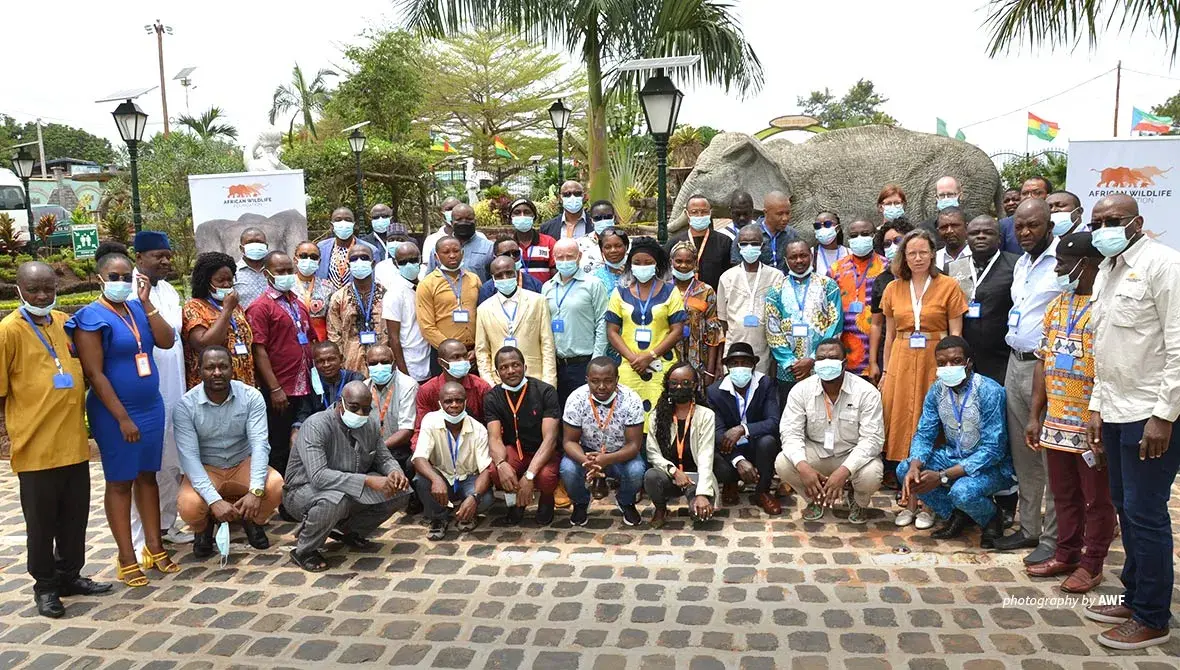 The African Wildlife Foundation (AWF) office in Cameroon earlier this month held a strategy workshop to align the organization's 10-year Strategic Vision with the current conservation challenges and needs of the Dja landscape in south-eastern Cameroon.
The workshop, which took place in Mbankomo, Cameroon from March 9-11, 2022 aimed at developing a comprehensive landscape strategy for Dja in order to ensure thriving wildlife populations, secure wildlife habitats and support sustainable livelihoods for communities. The three-day session was a multi-stakeholder event that brought together representatives from the European Union, Cameroon government officials, members of local communities, indigenous peoples, community-based organizations, as well as international NGOs working in the landscape.
AWF was represented at the workshop by a team of senior leaders from the organization's headquarters in Nairobi led by Senior Vice President, Conservation Strategy, Impact and Learning Charly Facheux, and AWF Country Director, Cameroon, Norbert Sonne, and his team.
"We appreciate the active participation of attendees at the workshop and congratulate AWF for a job well done in Dja. I would like to reiterate the European Union's commitment to supporting not only conservation work but also sustainable livelihoods for the local communities in this landscape," said Sylvanie Jardinet, the Senior Development Cooperation Officer at the European Union.
AWF works in Dja under the EU-funded ECOFAC 6 program, implementing a range of conservation interventions including anti-poaching, developing sustainable livelihoods for local communities, and facilitating ecological surveys and monitoring.
According to Marie Ba'ane, Coordinator of APIFED (Organisation d'Appui à l'Autonomisation et Insertion des Femmes, des Jeunes et Désœuvres), a community-based organization working to support the empowerment and integration of women, youth, and unemployed people in the Dja landscape, conservation cannot succeed without the participation of local communities. She lauded AWF for putting communities, including indigenous people, at the heart of its conservation activities.
"This workshop was important for us because reflections were made in the long-term and did not only concern the protected area that is the Dja biosphere but also extended to include neighboring communities and different stakeholders operating in the landscape. I appreciate AWF's method because at last, a true and real participation of communities and local stakeholders has been considered. Our wish as a community is that the contributions we have made to this strategy be practically applied in the implementation phase. We also take it upon ourselves to carry out responsible actions to protect our environment," she said.
The Dja landscape strategy is set to be ready by July 2022 and is part of AWF's landscape conservation approach which envisions healthy and functioning ecosystems, thriving wildlife populations, and vibrant communities.