Celebrating Zimbabwe's community wildlife scouts on World Ranger Day
By Harleen Sehmi | July 30, 2020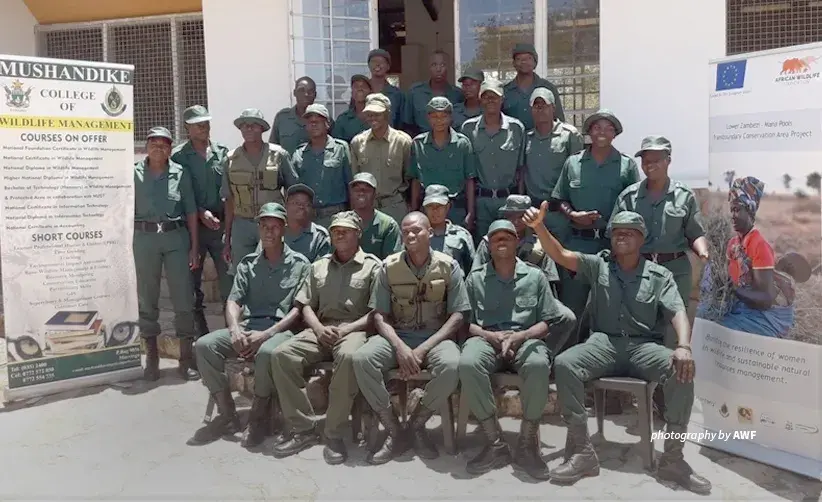 About the Author
Harleen Sehmi is the Senior Digital Content Officer at African Wildlife Foundation. She develops articles for AWF's website and publications, connecting audiences with the organization's work in diverse landscapes and showcasing the impact of community-centered conservation.
...
More
Wildlife in Zimbabwe roams outside protected areas, crossing communal areas as populations migrate across the country's rich natural landscapes. In Zimbabwe's northern district of Mbire, situated in the Mid-Zambezi Valley and bordering Mozambique and Zambia, the increased interface between people and wildlife raises various risks for communities, wildlife populations, and entire ecosystems.
Community wildlife scouts help ease human-wildlife tensions in communal areas such as Mbire and conduct anti-operations to reduce illegal wildlife trade. They also respond to incursions by large mammals like elephants and mitigate livestock predation by lions and hyenas while educating residents on the benefits of conservation.
When African Wildlife Foundation initiated community conservation projects with funding support from the European Union in 2018, there were no women among the 75 community scouts working across the 17 wards of the district. Olivia Mufute, AWF's Country Director in Zimbabwe, drove the efforts to enlist women for this important role. In honor of World Ranger Day, she speaks to Mavis Mhako and Shylet Mugonapanja, two of the five women who heeded the call and joined the ranks.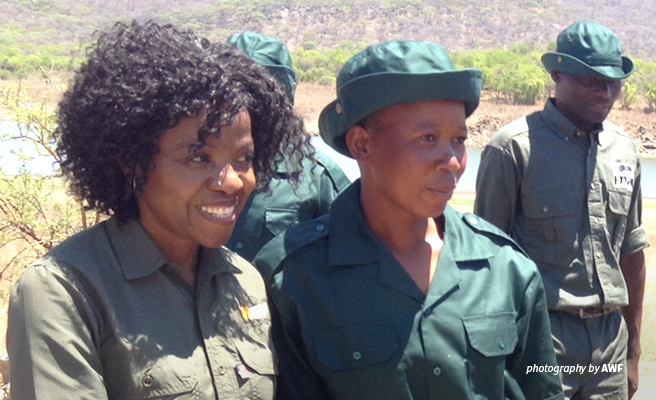 AWF Zimbabwe Country Director Olivia Mufute congratulates a community wildlife scout from Mbire district at a graduation ceremony in October 2018
Olivia: Recruiting the first women community wildlife scouts in Mbire was an opportunity for AWF to do something groundbreaking in this landscape. Wildlife scouts like Mavis and Shylet interact with communities on a day-to-day basis — they sit down with people, talk about wildlife conservation issues, and raise awareness related to legislation and natural resource use. Coming from the same community, they can speak to the elders without animosity and with a better understanding of their challenges.
Shylet: That is why I decided to submit my application when I saw the posters all over the schools, hospitals, and water points calling for women to become community scouts — I wanted to assist my community in whatever way I could. In Kanyemba, where the borders of Zimbabwe, Zambia, and Mozambique meet, we live along the River Zambezi. Wildlife come here to drink, so human-wildlife conflict is quite common.
During the written interview before the Natural Resource Management Committee, they read through my responses as soon as I was done and announced that I was successful. I got recruited on the day of my interview! This job was also important to me because I wanted to sustain myself and my two children. Though my parents are late, my three siblings are so happy that I am a community wildlife scout, and they are very supportive.
Mavis: My family was overjoyed when I received the letter that my interview conducted by a panelist from the Ward Natural Resources Committee — which includes our Headman, Ward Councillor, and Community Representative — was successful. I was extremely happy to become a wildlife scout, and my three sons were thrilled because their mother finally had a full-time job. Before becoming a wildlife scout, farming was my only source of income, and it was difficult to look after my boys, who are 17, 13, and seven years old.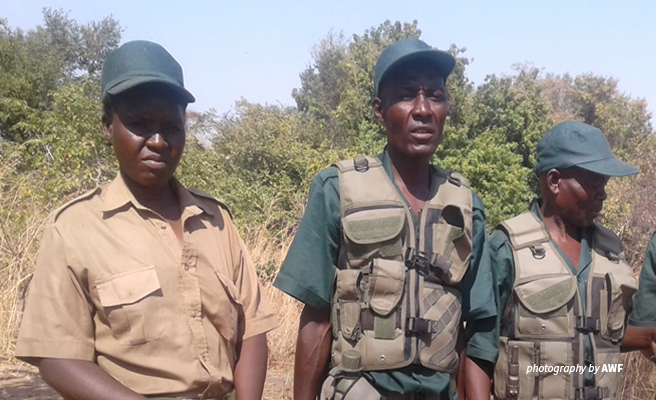 Community wildlife scout Mavis Mhako during a training session supported by AWF
Olivia: AWF was deliberate in recruiting women community scouts in Mbire, and we soon found that there was quite an openness and much encouragement from the community, which is very positive. During the process, I was pleased to hear that there were women in this area who were interested; sadly, all they lacked were the opportunities. Personally, championing the recruitment of the first women community scouts is extremely meaningful. When I joined Zimbabwe Parks and Wildlife Management Authority (or Zimparks) as a young, entry-level ecologist, to a very large extent my colleagues were male. Moreover, the authority had not appointed any women in leadership positions. It could take up to 10-15 years for a woman to be promoted in her job, whether it was for a more senior role or as an area manager.
By the time I left Zimparks, I had risen the ranks to the position of Chief Ecologist overseeing both terrestrial and aquatic ecology portfolios in Zimbabwe's protected areas. I also represented my country in global multilateral agreements such as the Convention on International Trade in Endangered Species, and felt equally motivated and grateful to have been entrusted with these highly responsible duties. Since I joined the authority, I have noticed that female representation at senior levels is improving. My former position is still held by a woman and there are more women in the field now as well.
Mavis: There are 15 community wildlife scouts in Ward 11 and I am the only woman. I thoroughly enjoy every part of my job! Raising awareness among community members is very important within my role, but patrols are my favorite activity because I get to spend time in the bush. In fact, I see myself progressing within the anti-poaching unit and taking on a senior position in the next few years. Like me, my 17-year-old son finds my job fascinating — he wants to do exactly what his mother is doing!
Shylet: I, too, am the only woman out of seven community wildlife scouts in my ward and I get a lot of respect from my male counterparts. I enjoy working in the team — especially when responding to wildlife incursions in the fields and homesteads. After we receive a report of human-wildlife conflict at the field office, I document it and proceed to the site. Whether it is a baboon or a buffalo or a hippo, I simply shoot in the air to scare it away. I also love talking to the community, visiting local elders as well as my friends and relatives in Kanyemba to raise awareness about wildlife issues and improve natural resource management.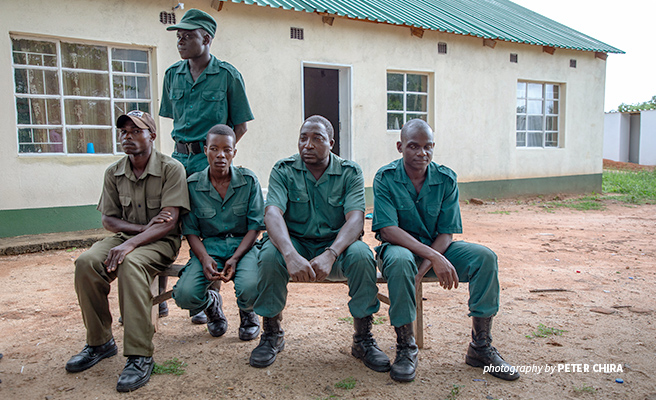 Community wildlife scout Shylet Mugonapanja with her fellow scouts in Kanyemba, Mbire district
Olivia: All through my career in wildlife conservation, I have thought: Why not open doors for other women? They play a critical role in natural resource management, making important decisions within families and households. So when it comes to improving wildlife conservation and reducing illegal wildlife trade, women must be involved and empowered. In Mbire, as in other rural wildlife-rich landscapes, when communities see women playing an active role in wildlife conservation, more and more can take up these positions. 
Shylet: In the next five years, I would like to take on senior responsibilities and also lead other female scouts who will join our team. Our work as community scouts might look scary, but it is not; it is actually a very interesting job and I would encourage members of my community to join us — we need to protect our natural resources. Together, we can make sure Mbire's forests remain intact and our wildlife is still thriving. After all, the air we breathe comes from our trees and we want to make sure that people can still breathe clean air in the future.
Mavis: I want the next generations to see the magnificent wildlife of Mbire and enjoy our beautiful forests forever — not to read about them in books. Conserving our natural resources has brought many direct benefits to our communities in the form of clinics, grinding mills, and schools that have changed our lives for the better. As a scout, I am grateful that AWF has supported our training at Mushandike College of Wildlife Management and given us all the rations we need for our patrols, including sanitary products which are an essential health and hygiene requirement for female scouts when we are away from home on extended patrols.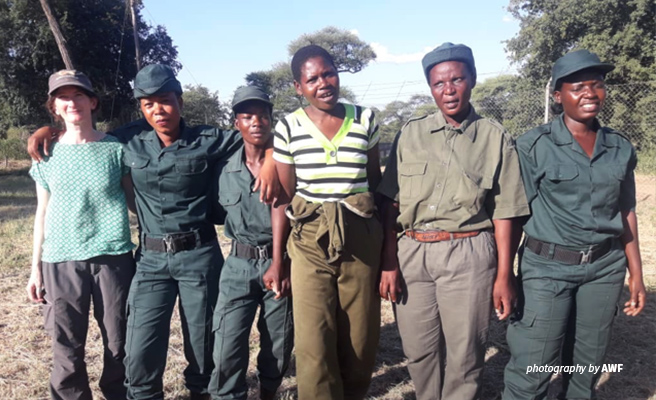 Shylet Mugonapanja (third from left) and Mavis Mhako (far left) with other wildlife scouts protecting the Mid-Zambezi Valley and a visiting researcher
Mavis: We are not sure how COVID-19 is going to develop in our community, but I get comfort from the fact that we have received assistance from AWF through the provision of personal protective equipment such as face masks, handwashing soaps, gloves, and sanitizers. We also appreciate the awareness programs on radio and through the District Civil Protection Unit on COVID-19 preventative measures that we must practice, such as social distancing and not attending any public gatherings.
Olivia: The wildlife conservation sector has been hit hard by pandemic due to funding deficits from the collapse of tourism. Critical wildlife management operations are stalling in protected areas over the country and the continent at large. AWF has stepped in to ensure that conservation gains are not lost during this challenging period. In addition to providing Mbire's 75 community wildlife scouts with protective gear, we are also paying their salaries for the next six months. We also have extended our support to the 133 Zimparks rangers deployed in the protected areas of the Mid-Zambezi Valley by providing ranger incentives, patrol rations, and fuel to keep anti-poaching units active.
Much like the medical professionals fighting against COVID-19, our frontline troopers within the wildlife sector are the rangers and community scouts who mitigate threats to wildlife and work with people to keep wild lands intact. For me, World Ranger Day is a chance for the world to say thank you to the people that are playing a critical role for humanity. Their work is tough; their responsibilities are risky and they need to be recognized for their sacrifices and fortitude.
> Learn from Mbire community wildlife scout Edith John what it takes to protect wildlife in northern Zimbabwe