World Safari Day: Reliving the great wildebeest migration
World Safari Day: Reliving the great wildebeest migration
By Guyo Adhi | November 25, 2021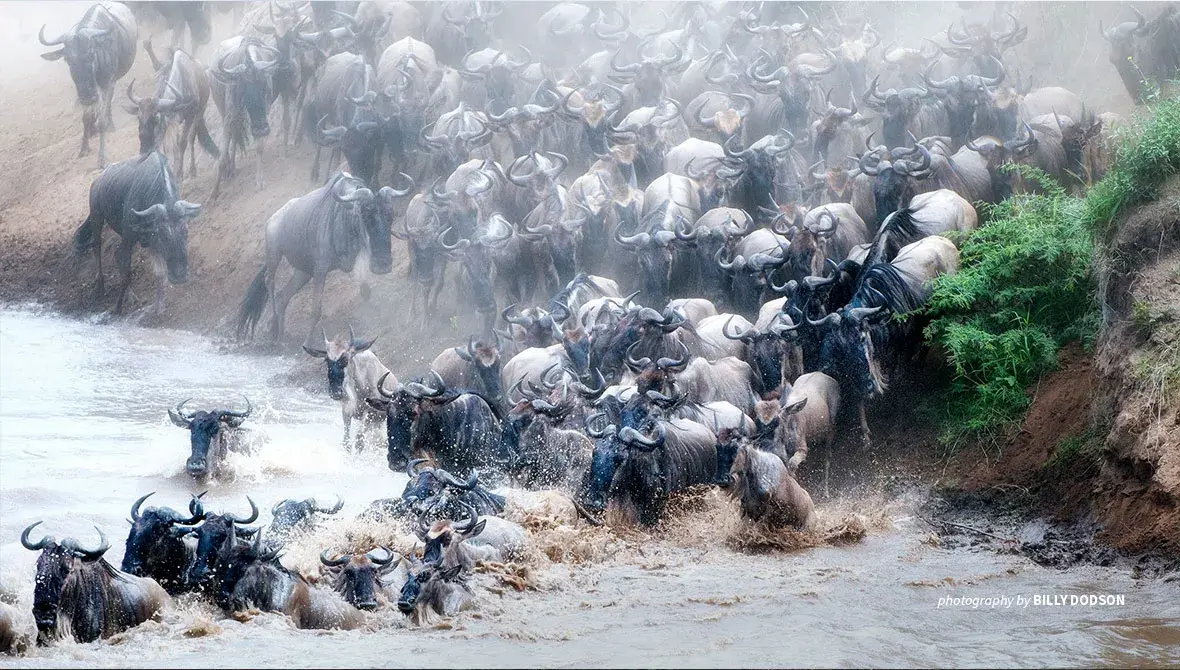 About the Author
Guyo Adhi is AWF's Senior Social Media Officer. He is passionate about everything digital and social marketing. He loves to spread the message of conservation to audiences through digital platforms.
...
More
Roughly 270 kilometers southwest of Kenya's capital lies the Maasai Mara National Reserve – an expansive and gently rolling grassland savanna landscape covering around 1,510 sq. kilometers. Arguably one of the country's most marketed safari destinations, the Maasai Mara is home to a huge number of African wildlife species: African bush elephants, lions, leopards, cheetahs, spotted hyenas, African wild dogs, cape buffaloes, Maasai giraffes, wildebeest, topis, Thomson's gazelles, impalas, plains zebras, serval cats, and more. It is no surprise that tourists from every corner of the globe throng this remarkable savanna all through the year.
But every year, between May and October, the drama crescendos when the Mara plains play host to one of nature's most spectacular phenomena – the Great Wildebeest Migration. Over April and May, approximately 1.3 million wildebeest — along with about 300,000 zebras, Thomson's gazelles, and topis — start their northward drift from the Ngorongoro Conservation Area and Serengeti National Park in Tanzania towards the Mara. A few months later, they will return along the same circuit, chasing the rains. This annual event is a major component of Kenya's post-pandemic tourism recovery plan.
Why do wildebeest migrate across Maasai Mara?
These intrepid herbivores are on the constant search for fresh and greener pasture. While it is clear that the wildebeest follow the rains and new grass in and around the Serengeti-Maasai Mara ecosystem, ecologists and biologists are not exactly sure how the herds locate rains more than 50 kilometers away.
For travelers witnessing the wildebeest migration for the first time, the journey is an emotional rollercoaster. Big cats such as lions and cheetahs target the weaker herbivores and younger calves that falter along the way. The Mara River is the biggest obstacle to the migrating herds, with massive crocodiles hiding patiently below the water surface. The encounters are tense. More often than not, a high proportion of these frantic herbivores do not survive the treacherous crossing, falling prey to the crocodiles or large carnivores. While the gruesome scenes of death may seem unfortunate, this must happen to ensure predators thrive and maintain a balanced ecosystem.
But the Maasai Mara, like many critical ecosystems across Africa, faces a myriad of challenges. In 2021, scientists observed shifts in the migration behavior of the wildebeest. The migratory routes and movement of these herbivores are usually dictated by the rainfall patterns, available water, and pasture across the Maasai Mara and Serengeti. With delayed rains in Kenya, the migration too has delayed significantly.
Creating global awareness to conserve Africa's wildlife
African Wildlife Foundation's Kenya Country Director, Nancy Githaiga, believes that climate breakdown is the reason behind the delays. "Climate change and habitat depletion have altered the wildebeest migration dynamics in the Maasai Mara," says Githaiga. Government agencies, park management authorities, and communities must work in close partnership to mitigate the impacts of climate change at different levels.
Speaking during AWF's livestream on TikTok on August 29, 2021 facilitated by the Kenya Tourism Board's Magical Kenya and renowned wildlife photographer Jeffrey Wu, Githaiga noted that significant populations of wildlife in Kenya occur outside protected areas. "Sixty percent of Kenya's wildlife is found outside of our parks and reserves," she explains. "They are mostly in community conservancies, communal lands, and private ranches." Migration corridors connect these wildlife habitats and are critically important in securing the future of wildlife species.
African governments and conservation non-profits have worked hand-in-hand to develop participatory land-use plans that ensure infrastructural developments do not interfere with wildlife migration routes or degrade habitats.
At the same time, AWF partners with international media organizations to bring attention to conservation challenges across the continent, as awareness plays a key role in highlighting the plight of the continent's endangered species. Our first-ever TikTok livestream with Jeffrey Wu attracted over 120,000 views during the 30 minutes. If more people are educated on the wider impacts of dwindling wildlife populations and habitat loss, they will feel more empathetic towards threatened wildlife species and advocate for their protection.
Partnerships with influential media personalities such as photographer Jeffrey Wu play a vital role in spreading the gospel of conservation to the masses – especially in geographies such as the Far East where the illegal wildlife trade in rhino horn and elephant ivory still exists. AWF's educational campaigns in demand countries debunk the false myths peddled about the healing properties of rhino horn, for instance. Combined with our on-the-ground conservation strategies, these awareness-building efforts help people across the globe understand the value of Africa's wildlife species and wild lands.
> Learn how the inaugural Benjamin Mkapa African Wildlife Photography Awards spread the message of conservation