Press Release
AWF and Former African Heads of State Meet African Union, US Agencies, and World Bank
General Inquiries
Tel:+254 711 063 000
Ngong Road, Karen, P.O. Box 310
00502 Nairobi, Kenya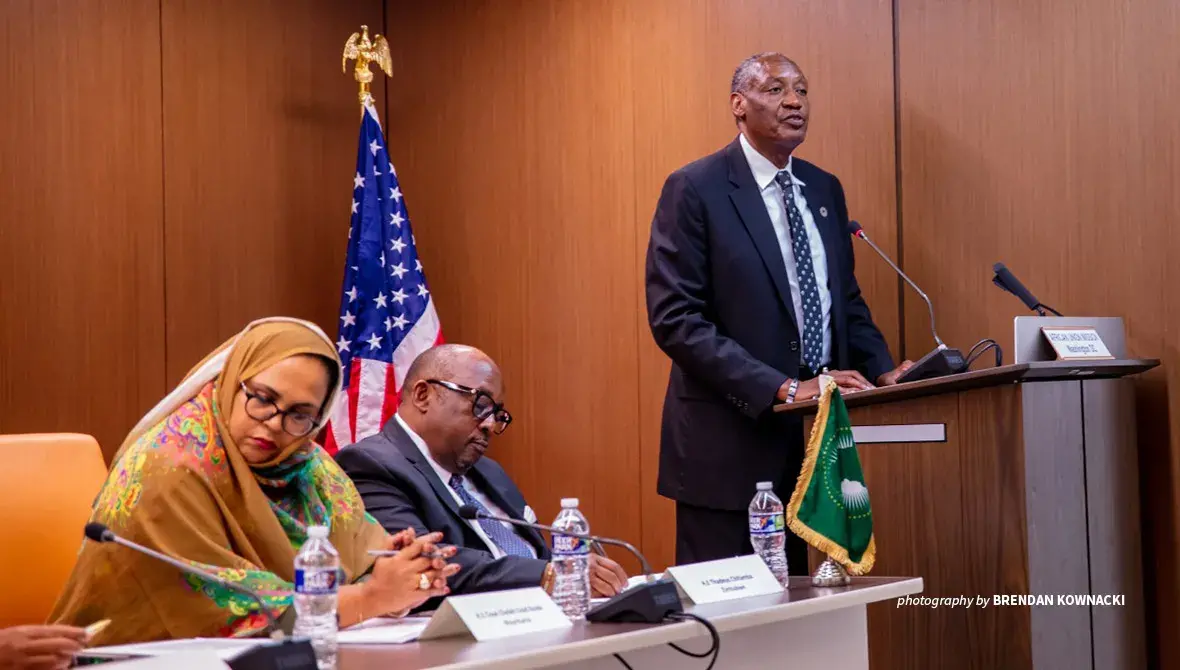 Three Former African Heads of State Join AWF's U.S. Delegation: H.E. Festus Mogae, former President of Botswana; H. E. Mahamadou Issoufou, former President of Niger; and H.E. Hailemariam Desalegn, former Prime Minister of Ethiopia
WASHINGTON, D.C. AND NAIROBI, KENYA (May 5, 2022) – Arriving on May 3, 2022 in Washington, D.C., a delegation organized by African Wildlife Foundation, including CEO Kaddu Sebunya and three former African heads of state (H.E. Festus Mogae, former President of Botswana; H. E. Mahamadou Issoufou, former President of Niger; and H.E. Hailemariam Desalegn former Prime Minister of Ethiopia) began a week-long series of high-level meetings to drive home a favorable African conservation policy agenda with U.S. government agencies, elected officials, and African diplomats working in America, and advocate new legislation and programming decisions expected to have a strong bearing on conservation and development in Africa.
AWF CEO Kaddu Sebunya said: "The United States is a leading geopolitical influencer and a model for economic and regulatory policymaking worldwide. Engagement with the U.S. government is essential in addressing the world's most pressing environmental challenges and opportunities. U.S. Congress plays a crucial role in shaping policies and funding for international conservation touching on promoting species conservation, habitats, and natural resources, particularly in the developing world. International conservation investments are now vital components of U.S. foreign policy."
On May 3, the AWF delegation met with senior staff of the House Foreign Affairs Committee, the Senate Committee on Foreign Relations, and and the House Natural Resources Subcommittee on Water, Oceans, and Wildlife. Discussions focused on five key priority issues that align with AWF's agenda: the implementation of a rights-based approach to conservation; strengthening the U.S. commitment to combating Illegal Wildlife Trafficking (IWT) and poaching; financing to secure Africa's natural infrastructure; Africa's leadership role in addressing the climate crisis; and mainstreaming conservation in U.S.-Africa engagements.
From Capitol Hill meetings on May 3, AWF Global Leadership Director Edwin Tambara said: "An important goal with U.S. lawmakers is to emphasize the need for tougher enforcement and sentencing for illegal wildlife traffickers. Although much has been achieved, wildlife trafficking is still a serious challenge in Africa. Some countries have experienced an uptick in poaching during the pandemic. That's why it's imperative to build on the gains achieved so far in combating IWT in Africa. The END Wildlife Trafficking Act in 2016 provided resources to African countries to combat poaching on the ground. Today, the END 2.0 Act will expand the gains we achieved in combating wildlife trafficking. New investments in Central, Southern and West Africa will help curb emerging trafficking hubs, and the use of high-tech tools, cross-border collaboration, and greater community awareness will help as well."
Another key issue for AWF in meetings with U.S. officials this week is building momentum for sustainable financing for Africa's protected and conserved areas, and galvanizing the necessary support from the rest of the U.S. government and other potential funders in the country and across the world.
In remarks to the African Union in Washington, D.C. on May 3, H.E. Hailemariam Desalegn, former Prime Minister of Ethiopia and member of AWF's Global Board of Trustees, said: "As a co-convener of the upcoming African Protected Areas Congress, one current initiative AWF is particularly engaged in is the Pan-African Conservation Trust. The ambition of A-PACT is to transform the chronic lack of funding for protected areas in Africa by creating a sustainable financing mechanism for all of Africa's protected areas and conserved areas. The availability of sustained and sufficient levels of financing would empower protected and conserved area managers to focus on conservation, reduce vulnerability to donor influence and project cycles, and incentivize alignment with community and national interests, and thus enhance the perceived value of these areas."
About African Wildlife Foundation
The African Wildlife Foundation is the primary advocate for the protection of wildlife and wild lands as an essential part of a modern and prosperous Africa. Founded in 1961 to focus on Africa's conservation needs, we articulate a uniquely African vision, bridge science and public policy, and demonstrate the benefits of conservation to ensure the survival of the continent's wildlife and wild lands.
About Africa Protected Areas Congress
The IUCN Africa Protected Areas Congress (APAC) is the first ever continent-wide gathering of African leaders, citizens, and interest groups to discuss the role of protected areas in conserving nature, safeguarding Africa's iconic wildlife, delivering vital life-supporting ecosystem services, promoting sustainable development while conserving Africa's cultural heritage and traditions. APAC is scheduled to take pace in Kigali Rwanda from March 7-12, 2022. Registration for the Congress is ongoing.
MEDIA CONTACTS: For US media inquiries, please contact Patrick Mitchell at pmitchell@awf.org. For APAC inquiries, please contact Valentine Njoroge at VNjoroge@apacongress.africa or Eileen Kairu at ekairu@awf.org.