Anti-poaching success in Campo Ma'an as baby chimp rescued
By Noella Ngunyam | January 6, 2023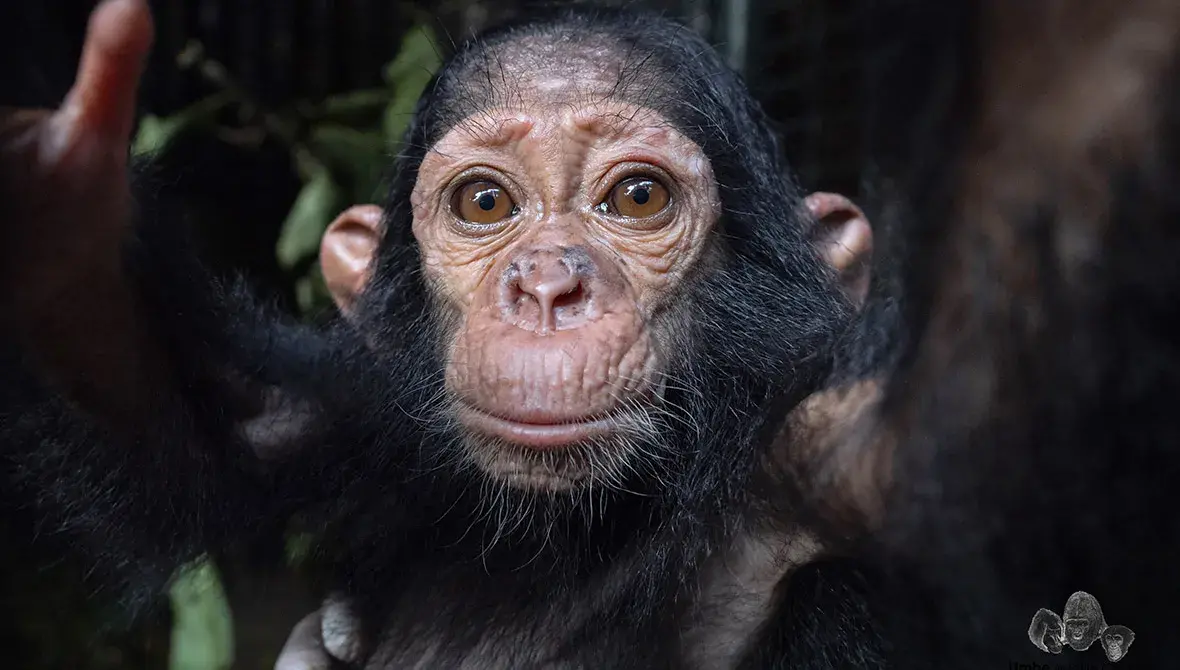 About the Author
Noella Ngunyam is African Wildlife Foundation's Communications Assistant in Cameroon. She highlights the success stories from the country's conservation programs in the Faro, Campo Ma'an, and Dja landscapes.
...
More
Renowned as one of Cameroon's most biodiverse landscapes, the Campo Ma'an National Park is home to more than 80 mammal species, particularly great apes like gorillas, chimpanzees, and mandrills. Sadly, the protected area has become a target for poachers for the same reason. In a bid to combat this threat to the ecosystem, AWF has been working with Cameroon's Ministry of Forestry and Wildlife (MINFOF) by developing and implementing a 5-year biomonitoring and anti-poaching strategy to catch offenders and rescue captured wildlife.
During a routine AWF-MINFOF patrol mission in the Niété sub-division, the rangers rescued an 8-month-old female chimpanzee. The poachers fled when the rangers arrived at the scene, abandoning their weapons and ammunition, their kills, and a live baby chimpanzee, destined for a nearby pet market.
The authorities transferred the baby chimp to Limbe Wildlife Centre — a rescue, rehabilitation, and release facility for animals orphaned by illegal wildlife trade located in the South-West Region of Cameroon — and Conservator Ettagbor Hans took her in for medical evaluation and care. She was named Niété, after the place of her rescue.
"There are likely many more baby chimpanzees like Niété who never get rescued, said Hans. "This is why community outreach and education programs are important and those working to push for more wildlife protection and the persecution of the criminals involved in poaching activities must be supported."
"It is essential to address the causes of this devastating trade and the destruction of West Africa's natural heritage as the only way of ever preventing these tragic but all too common stories," he continued.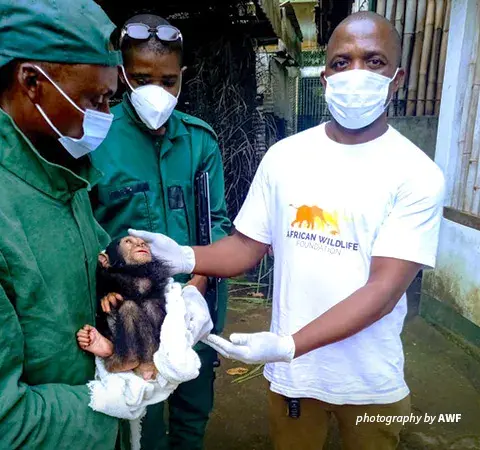 AWF's multifaceted anti-poaching efforts
Since 2016, AWF has supported the Ministry of Forestry and Wildlife to safeguard biodiversity in the Campo Ma'an National Park due to increasing pressures, such as poaching and habitat destruction. In 2019, with the support of the German Development Bank, KfW, MINFOF extended the protected area's anti-poaching strategy to span five years. The strategy relies on effective, regular, and rapid intervention patrols.
Between 2020 and 2022, rangers carried out over 320 anti-poaching patrols, covering 20,346 kilometers for over 2,362 patrol days and 15,958 man-days. These efforts led to the arrest of 16 poachers with infractions linked to poaching activities inside the park. Over 3200 kg of bush meat were seized, 200 poaching camps were destroyed, and 66 shotguns, 725 ammunition, and a total of 6,836 wire snares were confiscated.
To improve on anti-poaching operations, AWF has implemented capacity-building sessions to train rangers on the use of CyberTracker/SMART technologies such as the latest anti-poaching GIS systems to arm them with efficient tracking tools. AWF has equally trained rangers on Rights-Based Conservation particularly on the respect of human rights when dealing with local communities.
In 2022 alone, through AWF-supported patrols, the Conservation Service of the Campo Ma'an National Park seized approximately 1,967 kg of bushmeat. The target wildlife are Category A protected species known to be prone to bushmeat hunting and habitat destruction. Demand for chimpanzee, porcupine, and antelope meat has increased as the products are commonly served at local restaurants. Pangolin, elephant, and gorilla are more expensive but also available.
AWF Country Director, Cameroon Norbert Sonne, explained, "In areas like Campo Ma'an where the local populations have been living on forest resources for long, it is still hard for some communities to grasp the notion of conservation. However, most of these poachers are not even locals. They come in from the big cities of Ebolowa, Kribi, Yaounde, and Douala and incite locals to serve them in their notorious activities."
In addition to boosting anti-poaching operations, AWF works with communities to change their perception of conservation and provide incentives to stop illegal, ecosystem-degrading activities. "AWF carries out conservation education campaigns in local communities to sensitize them to the importance of conserving their forest resources. We have also instituted community development activities such as agriculture, community agroforestry, and utilization of non-timber forest products to provide livelihood alternatives that support community nutrition and generate income," said Sonne. He added, "We implement these activities using a Rights-Based Conservation Approach, respecting the rights and dignity of local populations in all conservation initiatives."
Protected wildlife species are killed and sold worldwide. Illegal wildlife trade is a major wildlife and biodiversity threat strongly combatted by governments through the enforcement of regulations and judicial procedures. Yet, the practice continues and wildlife population continue to decline. At the just-ended 19th meeting of the Conference of the Parties to the Convention on International Trade in Endangered Species of Fauna and Flora (CITES COP19) that took place in Panama from November 14–25, 2022, any suggestion on re-opening trade on endangered species such as elephants and rhinos garnered zero support.
Better again, a few weeks later at the 15th meeting of the Conference of Parties to the Convention on Biological Diversity (COP15) in Montreal, Canada, it was asserted that illegal and unsustainable wildlife trade is a menace not only to ecosystems but also to the well-being of communities, like those of Campo, who depend on wild resources for their livelihoods.
> Read AWF's statement on the Kunming-Montreal Global Biodiversity Framework adopted at COP15