Meet the judges of the 2022 Benjamin Mkapa African Wildlife Photography Awards
Meet the judges of the 2022 Benjamin Mkapa African Wildlife Photography Awards
By Terry Mukera | October 24, 2022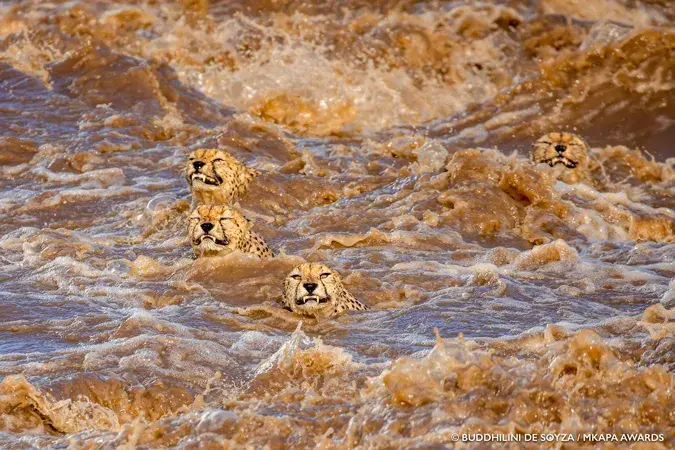 About the Author
Terry Mukera is African Wildlife Foundation's Editorial Associate. She helps to develop and write articles for AWF's publications like the Travel Africa magazine, and other print marketing products such as the annual report. Terry is passionate about storytelling and its crucial role i ... More
The African Wildlife Foundation and Nature's Best Photography tapped a diverse cadre of wildlife photographers, filmmakers, leading conservationists, and prominent safari guides to serve as judges for the 2022 Benjamin Mkapa African Wildlife Photography Awards. Aside from being photography experts in ethical photography practices with technical evaluation skills, they must deeply understand natural history and progressive conservation strategies, be passionate about African wildlife and people, and be highly regarded in their fields.
This year's competition attracted 9,500 entries, from 57 countries, including 16 African countries, up over 1,000 from last year. Most entrants were from the USA, Kenya, and South Africa, respectively. The panel selected finalists based on image originality, overall appeal and impact, conformity to the category guidelines and rules, technical quality, and artistic merit.
The 2022 judging panel consists of the following;
Steve Freligh, President/CEO, Nature's Best Photography Fund, McLean, Virginia, USA. Contest Co-founder, Photographer, Editor, and Publisher. Freligh has over 40 years of photography experience. He is widely known for his 20 years of curating print exhibitions at the Smithsonian Museum in Washington, DC, and other prestigious venues worldwide. He also has experience in visually-driven publishing projects with AWF, the Discovery Channel, and the National Geographic Society, among others.
Craig Sholley, Senior Vice President, African Wildlife Foundation and the contest Co-founder. Sholley's work in conservation began in the 1970s when he came to Africa as a Peace Corps volunteer in the Democratic Republic of Congo. As an L.S.B. Leakey grant researcher, Sholley studied mountain gorillas with the late conservation legend Dian Fossey. He has led tours and photography trips worldwide. Sholley was the AWF-sponsored Rwanda Mountain Gorilla Project director before turning it over to the Rwandan government in 1990. Sholley has also served on AWF's Board of Trustees.
Melissa Groo of Ithaca, New York, USA. Wildlife and Conservation Photographer and Writer, former African elephant researcher. Melissa is an award-winning wildlife photographer and writer whose work has appeared on the Smithsonian, Natural History, and Living Bird covers. She is also an associate fellow of the International League of Conservation Photographers, a columnist for the Outdoor Photographer magazine, and a contributing editor for Audubon magazine.
Ona Basimane of Maun, Botswana. Professional tour guide and wildlife photographer. Growing up in the Okavango Delta, Botswana, Basimane spent time in nature and among wildlife. His experience and knowledge as a naturalist have made him a respected guide in Africa. He forayed into African wildlife photography a few years after starting his safari guide career in 2007. He now works with Wilderness Safaris. His photography has appeared in various prestigious travel publications.
Faith Musembi, Producer and director, based in Kenya and Bristol, England, UK. Musembi is a passionate storyteller who conveys narratives that showcase Africa's beauty and the complex issues impacting sustainable conservation. She has directed visual projects for National Geographic, Disney plus, Sky Nature, and BBC.
Federico Veronesi of Nairobi, Kenya. Fine Art photographer, safari guide, former Nature's Best Photography Grand Prize and African Wildlife category winner. In 2007, he moved from Italy to the Maasai Mara National Reserve in Kenya to pursue his dream of living in and photographing wildlife in the African wilderness. Today, Veronesi guides tourists on safaris in Eastern and Southern Africa and contributes to conservation through his unique wildlife photography, trademarked by his dramatic lighting.
Fiona Tande based in Kajiado, Kenya. She is a conservationist, freelance wildlife filmmaker, and recipient of the inaugural Jackson Wild Emerging Filmmakers Scholarship. She founded the Pridelands Films company to campaign for more African storytellers in wildlife production in Kenya. She has organized Kenya's first wildlife film festival, Pridelands Wildlife Film Fest 2022. In 2020, Tande participated in Jackson Wild's first-ever wildlife media lab. She was also part of the 2021 AWF African Conservation Voices fellowship.
David Rosenzweig of Mineola, New York, USA. Photographer, conservationist, and former Nature's Best Photography Youth Photographer of the Year. At age 14, on his first trip to Africa, he became obsessed with the continent. He worked with Rhinos Without Borders, an initiative committed to African rhino protection. David now focuses on multiple facets, including private safaris to rhino relocation sites, internships, and other businesses. He also works with the Stanford Institute for Innovation in Developing Economies, which seeks to end the cycle of global poverty by supporting African entrepreneurs.
Benjamin Mkapa African Wildlife Photography Awards, launched in 2021 in memory of the late former Tanzanian President, H.E. Benjamin Mkapa, aims to enhance the visibility of African wildlife and conservation issues through the art of photography. The 2022 prizes amounting to US $30,000 include a grand prize of US $5,000 and US $1,000 for the other categories. Winners will each get a hand-crafted Kisii stone sculpture from Kenya.
The categories include:
Coexistence & Conflict
African Conservation Heroes
African Wildlife at Risk
Fragile Wilderness
African Wildlife Portraits
African Wildlife Behavior
Africa's Backyard Wildlife
Art in Nature
Creative Digital
Mobile
Youth in Africa
Youth International
Africa in Motion | Video
The Mkapa Awards category winners will be featured in a future edition of Nature's Best Photography magazine and will be displayed in a year-long traveling exhibition through Africa, North America, Asia, and Europe.
The 2022 winners will be announced on Thursday, October 27, during the exhibition opening ceremony at the Nairobi National Museum, Kenya.
> Learn more about the winning photographs from the inaugural Benjamin Mkapa African Wildlife Photography Awards 2021