Stories behind Mkapa Award-winning African wildlife photographs
By Rebecca Wesloh | May 30, 2022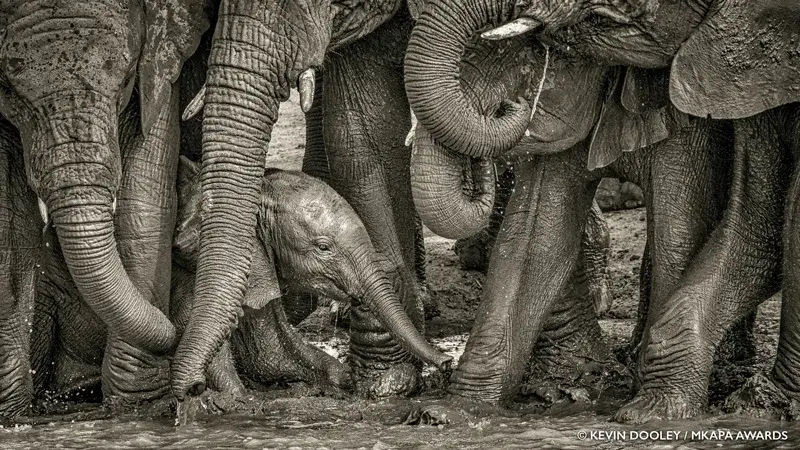 About the Author
Rebecca Wesloh is the Print Marketing Associate at African Wildlife Foundation. She is responsible for researching, writing, and editing materials for print marketing and producing editorial content for AWF's printed publications. She completed her B.S in English with a track in writing at Tows ... More
Five of Kevin Dooley's photographs were highly honored at the Benjamin Mkapa Wildlife Photography Awards, in addition to his winning image. His stunning black-and-white composition of a baby African savanna elephant clambering amidst the mud and feet of the elders won the category African Wildlife Portraits.
Dooley says they were set up for hours at the location within Madikwe Game Reserve in South Africa, waiting for the shot to line up. But, everything went right, he said, "I was once again reminded that life offers such amazing beauty. One just has to look for it."
He said the shot was inspired by both the composition and the elephants themselves, "I am a lover of textures and shapes, how they spark the imagination and build recognizable objects. I am also a person who thrives on kindness and caring, when I see this in wildlife it gives me goosebumps and a reason to love being alive. I believe the world of wildlife has many lessons of how we humans should live."
Dooley is a professional portrait and wedding photographer in Albuquerque, New Mexico, U.S., and runs a photographic safari company with his wife Tricia Dooley, guiding guests on wildlife viewing adventures throughout Africa and other continents. He is an avid and gifted photographer whose been behind the camera his entire adult life. His winning and highly honored photographs each stand out as works of art and messages of conservation's importance. Unfortunately, wilderness is not equally accessible to all, but Dooley said his art is a way of showing off the splendor of nature to everyone, so we can all know what we need to protect.
Bond between a rescued pangolin and veterinarian transcends barriers
Jen Guyton has been taking photographs since she got a film point-and-shoot when she was about 12. Before that, she was clicking away on disposable cameras. "I've always adored nature and spent my childhood outside catching lizards, collecting rocks, and looking at insects. So, when I got my first camera it only made sense to turn it on the plants and animals that I could find!"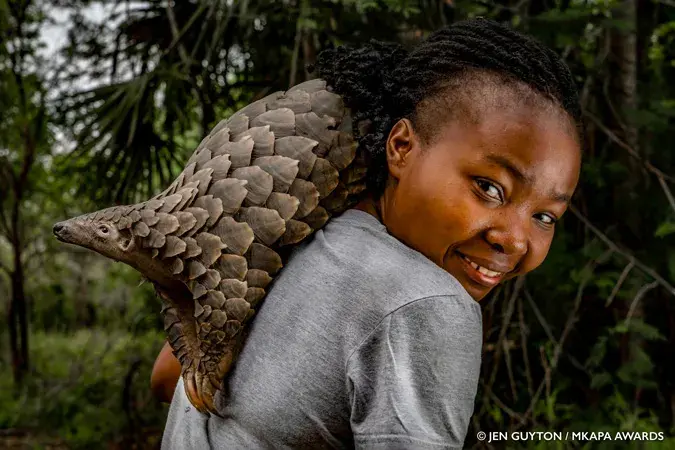 Her portrait of wildlife veterinarian Mércia Ângela and rescued pangolin Boogli won the African Conservation Heroes category. In the portrait, Boogli hangs over Ângela's shoulder, its claws loosely gripping at her shirt as it gazes upwards towards the serene backdrop of Gorongosa National Park in Mozambique.
Guyton arranged with Ângela to accompany her on her daily walk with Boogli. "I wanted to show the special bond between Mércia and Boogli and to emphasize how important people like Mércia — dedicated, passionate young people looking after wildlife in their own countries — are to conservation," she said.
With a PhD in Ecology and Evolutionary Biology, Guyton studied waterbuck recovery and bat diversity in Gorongosa National Park and termite and vegetation spatial patterning in Kenya and Namibia. She is a National Geographic Explorer, workshop leader, speaker, and teacher. She occasionally dabbles in other mediums of art-making, casting pictures of wildlife with watercolor and ink or charcoal.
Guyton believes art has a great ability to ignite change. "Art is one of the best ways to tap into people's emotions, and when they care about something, they're more likely to want to protect it. Photography has the power to do that, and to do it across linguistic and cultural barriers. That's a big reason that it's so important for conservation."
Capturing the horrors of human-wildlife conflict and rhino conservation in the 21st century
Belgian photographer Gunther De Bruyne describes his highly honored photograph of an elephant trunk probing a kitchen window in Malawi's Kasungu National Park as "a lucky shot, but not an easy one."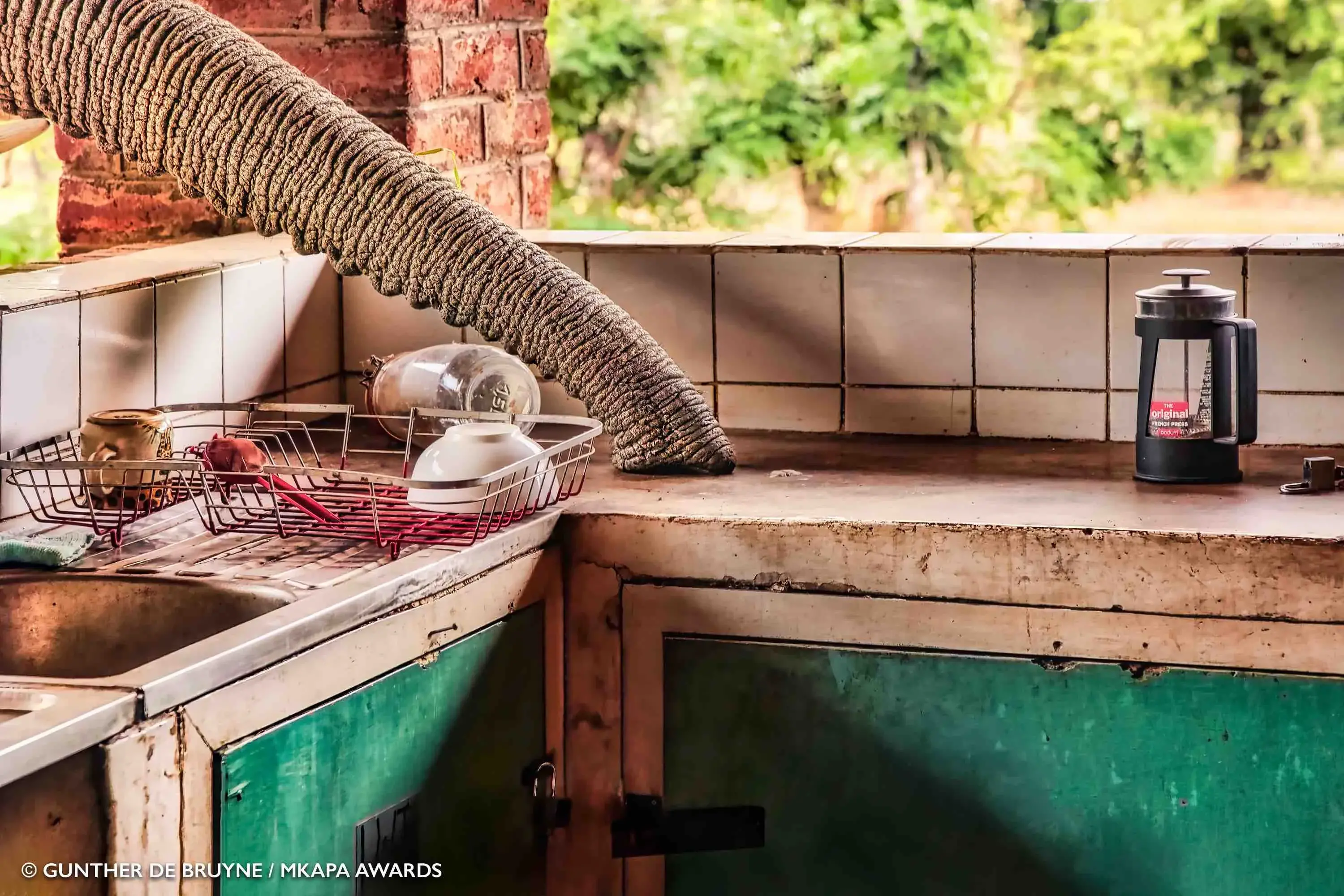 Trained as a biologist and a seasoned photographer and traveler, De Bruyne was based in the park's research center. One day, on his way to the outside bathroom, he opened the door to a huge, angry male elephant facing him squarely. "I closed the door and took my camera," he said. By this time, the elephant had turned violent and tried to ransack the open-air kitchen even though there was no food for him. De Bruyne pointed out that the high incidence of poaching in Kasungu National Park over the years could explain why elephants show unusually aggressive behavior towards humans.
"African savanna elephant trunk" depicts the reality of elephant incursions in settlements clearly and uniquely. But, for De Bruyne, who considers himself a "conservation storytelling photographer," it also calls to mind wider issues around space and resource conflicts between humans and wildlife and pushes us to think of solutions.
He grappled with the same dilemma when photographing a rhino dehorning operation at the Thanda Safari Game Reserve in KwaZulu-Natal, South Africa. "Veterinarians and Rangers," highly honored in the Conservation Heroes category, shows the team conducting a health check on an adult white rhinoceros moments before its horn is sawn off — a drastic but effective anti-poaching measure. A white bandage wraps the rhino's face, covering its eyes, and a white ring marks the base of the larger horn. "I cannot find the right words to describe it… it was a very emotional experience," he remembered. De Bruyne still struggles to come to terms with the lengths conservationists go to protect rhinos from the illegal wildlife trade.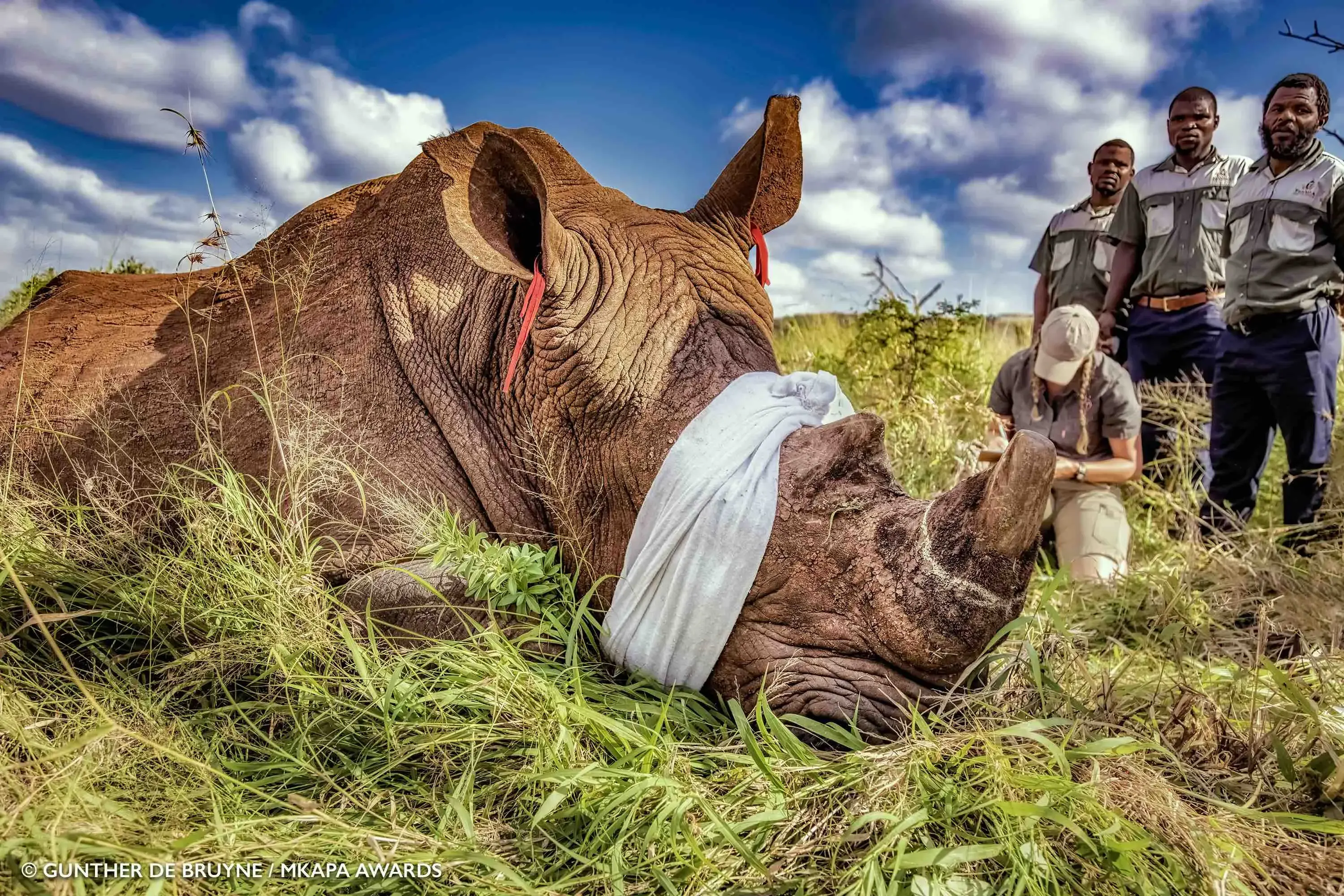 "It is just completely insane, very sad, and incredible. I don't understand how people can really be so ruthless," he remarked. But despite the challenges that sometimes feel insurmountable, De Bruyne remains hopeful in the work of conservationists, and wildlife photographers, around the world.
Working with local safari guides for the best wildlife films
Olli Teirilä spent two weeks in Kenya's Maasai Mara to shoot his winning film in the Africa in Motion category at the inaugural Benjamin Mkapa African Wildlife Photography Awards. The November 2020 trip to the landscape from his home in Finland was not his first. "I have been coming to the Mara with my spouse since 2013 almost every year," he said. Both Teirilä and Alison Buttigieg, also a wildlife photographer, have been serious about their hobby for nearly 10 years, but they are not professional. "At least not yet," he added.
Their experience shooting in the Maasai Mara landscape means that they did not need additional research to prepare for their trip in 2020, but they always use a local guide with whom they have built a friendship over the years. "Every time we visit, and almost every day of the trips, we learn something new about the area or wildlife from him. This has helped make the Maasai Mara a very special place for us," said Teirilä.
The difficulties for nature filmmakers in the field are the same, no matter the landscape. Anticipating animal action and being in the right place to get the shot are the biggest challenges, according to Teirilä. There are technical solutions for other issues, like working in harsh or low-light conditions to capture wildlife when they are most active. But, as he concludes, "The experience and seamless cooperation between the guide and the videographer or photographer are essential for the best result!"
Forgotten African wildlife species take center stage
At just 18 years old, Cathan Moore won the Youth in Africa prize in the first-ever Benjamin Mkapa African Wildlife Photography Awards in 2021 for his striking black-and-white wildebeest herd portrait taken at the Timbavati Nature Reserve in South Africa. Moore is obsessed with getting low in the shrub, at eye-level with his subjects. This is not always easy when photographing plains game, who tend to be shyer.
"The wildebeest shot was a couple of months in the making as I had to get this herd used to my presence outside the vehicle. I spent some time with them every week, gradually increasing my time in the shrub and getting closer until the point I could pull out my camera and photograph the beautiful family." As grazers, wildebeest stick to open areas and plains with good grass cover, meaning there is little shade. In Moore's case, none.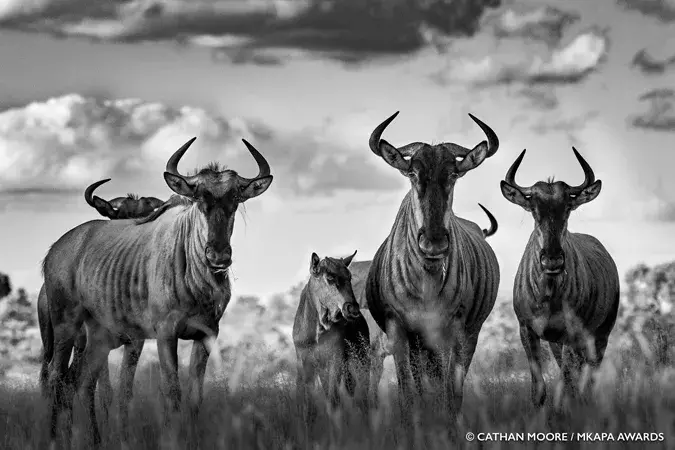 On the scorching hot day that he captured the winning "Wildebeest," he sat on the sizzling ground with his overheated camera, waiting for a family of blue wildebeest to move across the plains. Drenched in sweat and bombarded by flies for about two hours, just as he was about to call it quits, the lead individual took the first steps out into the open, and the rest followed. Finally, the herd headed his way and lined up beautifully for the portrait.
The photograph is the first in Moore's series highlighting the wildebeest. He sought to avoid the general trend of photographers of African wildlife to concentrate more on the iconic Big 5 (especially lions, leopards, and cheetahs) and lose focus on other wildlife.
"I wanted to create an image that told the story of an often-overlooked species and [is] part of a collective known as the 'Ugly 5.' They are beautiful and deserve more camera time! I am ecstatic with the outcome and reach my image has had," said Moore.
Terry Mukera and Harleen Sehmi contributed to this article
> Submit your winning African wildlife photography and videos for the Mkapa Awards before June 1, 2022