Nurturing resilience among wildlife tourism-dependent communities
Nurturing resilience among wildlife tourism-dependent communities
By Harleen Sehmi | August 13, 2020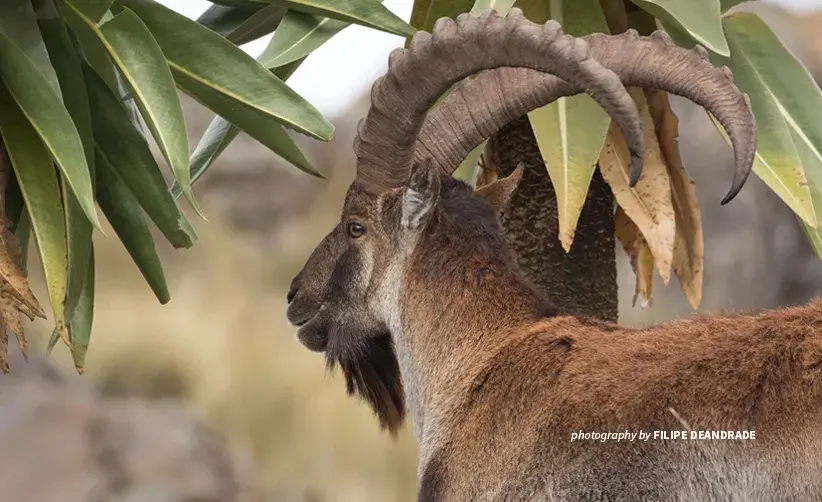 About the Author
Harleen Sehmi is the Senior Digital Content Officer at African Wildlife Foundation. She develops articles for AWF's website and publications, connecting audiences with the organization's work in diverse landscapes and showcasing the impact of community-centered conservation.
...
More
As strict international travel restrictions grounded thousands of visitors heading to Africa in early 2020, tourism operators across the continent declared the year a write-off. The specter of empty rooms and safari vehicles struck lodge owners unable to serve even domestic tourists as internal lockdowns took effect. Dwindling earnings from wildlife tourism threaten to undermine decades of conservation work, particularly in places like Simien Mountains National Park, a U.N. Educational, Scientific and Cultural Organisation World Heritage Site in northern Ethiopia, where tourism revenues sustain rangers as well as guides, porters, and lodge staff.
Across the continent, many rangers and scouts are unable to return to or rotate their posts — a combination of reduced wildlife management funds and lockdowns limiting movement. With reduced security, cases of poaching and illegal wildlife killing are rising in some biodiversity hotspots. At the same time, the risk of human-wildlife conflict increases for people living near protected areas. These communities have long lived side-by-side with wildlife. Until the COVID-19 pandemic, they had been earning a reliable income from a variety of tourism-related enterprises, working at lodges and campsites or serving as guides. Other groups receive lease payments for community wildlife conservancies and receive a share of profits from communally owned lodges or conservancy entrance fees.
"Wildlife tourism provides 23 million jobs in Africa, has generated tangible benefits for rural communities in wildlife-rich areas, and funds much of Africa's conservation efforts," says Andrea Athanas, Program Design Director at African Wildlife Foundation. As part of the team implementing AWF's pioneering market-driven models linking conservation and development, Athanas has observed how tourism-based revenues help people embrace sustainable wildlife economies and build resilience in wildlife-rich areas. "Where low-yield subsistence farming is the only opportunity to derive a livelihood, conversion of forests, grasslands and wetlands to farmland is a leading cause of biodiversity loss," she explains. "Nurturing dynamic, diverse, and resilient local economies is essential for wildlife to thrive in modern Africa."
Wildlife tourism businesses can be powerful drivers of rural economic development. For instance, AWF provided Rwandans living near Volcanoes National Park with a unique opportunity to own the award-winning Sabyinyo Silverback Lodge. Since it was established in 2017, members of the community association have reinvested their profits into sustainable agriculture programs, education initiatives, and social amenities. In Ethiopia's Simien Mountains National Park, AWF's impact investing financed Limalimo Lodge, a boutique ecolodge co-owned by two seasoned trekking guides from nearby Debark. Apart from employing local people for the construction and running of the lodge, Limalimo collects a share of guest fees to fund community development projects and conservation initiatives in the Simiens.
However, the shutdown of tourism during the pandemic has suddenly cut off the flow of benefits to protected areas and people. "Due to an entire and utter halt on travel, tourism-generated turnovers are stuck at zero. This is something that the industry as a whole has never seen before," says Carter Smith. Managing AWF Safaris, Smith leads custom group safaris for travelers to discover Africa's majestic wildlife and witness first-hand AWF's biodiversity conservation impact and pioneering partnerships with people living in wildlife-rich areas. "A key concern is that these communities could be provoked to loosen their commitment to conservation as they need to seek alternatives to provide a living. The longer this pandemic continues, the more this will become an eventuality," says Smith, summarizing one of the key concerns raised by tourism industry leaders convened by AWF in April 2020.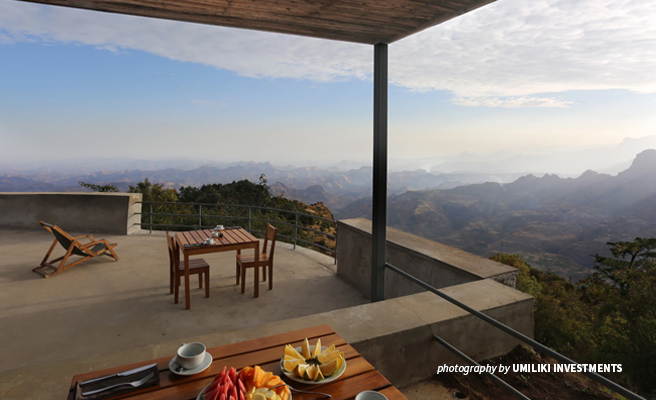 Limalimo Lodge in Ethiopia's Simien Mountains National Park opened in 2017 with support from AWF
Emergency COVID-19 support safeguards people and protected areas
Shiferaw Asrat, who co-owns and runs Limalimo Lodge, attended the virtual conference. He noted that people living near Simien Mountains National Park are starting to graze livestock and clear trees within restricted zones. "I can see a huge change from a couple of months ago to now," he reflects after the AWF meeting. Degradation during this period has far-reaching impacts for the national park, he warns. Simien Mountains National Park is home to endemic wildlife species like the Ethiopian wolf, Walia ibex, and gelada found only in this breathtaking protected area. Since the government enacted strict lockdown rules in mid-March, lodge staff, including Asrat, patrol the area daily to support Ethiopian Wildlife Conservation Authority scouts.
Unlike many other lodges forced to lay off employees as all bookings were canceled due to COVID-19, Asrat insisted on retaining Limalimo's full staff of 50 with no pay cuts until review in September 2020 (and even beyond if possible). However, the lodge's senior management team have slashed their salaries by half. "We'll fight it together," Asrat reassured his staff as COVID-19 tightened its grip. Ninety-eight percent of Limalimo's employees belong to communities from nearby areas. Asrat and co-owner Meles Yemata, too, come from the small town of Debark barely six kilometers from the lodge and launched their tourism careers guiding treks within the Simiens.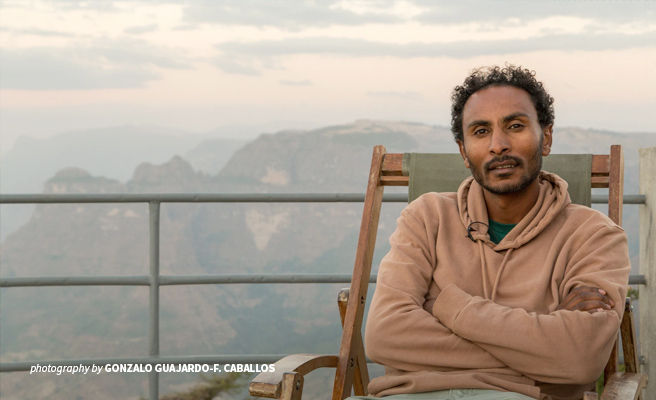 Shiferaw Asrat co-owns Limalimo Lodge in the Simien Mountains National Park
Asrat explains that Limalimo-led patrols are not designed to catch perpetrators but rather help deter people from illegal activities, especially at night when scouts from the wildlife management authority are off-duty. Importantly, the patrols give Limalimo's staff a chance to contribute to the protection of Simien Mountains National Park while their regular duties at the lodge are on hold.
"Instead of just sitting at home waiting for the next [paycheck], they are now patrolling every day," says Asrat, noting that the employees observe all coronavirus health and safety protocols. At night, the lodge's guards take over to minimize the illegal removal of natural resources under the cover of darkness. Being fairly close to Debark, the location of Limalimo Lodge within the national park is a strategic patrol point as people from the nearby town frequently destroy the forest to make furniture for sale.
Limalimo has worked closely with more than 200 people from nearby villages, holding regular meetings to encourage conservation-friendly land-use practices. Generally, these communities depend on small-scale farming and livestock rearing, but they also earned an extra income providing services for tourists as cooks or trekking guides. "They are surviving, somehow, from the harvest during the dry season," says Asrat, "But obviously they need extra support."
In April, households in this area received a donation of foodstuff and sanitary products from the lodge, which Limalimo Lodge donated thanks to a dedicated conservation support fund collected from each guest. Asrat often reminds his fellow community members: "If the park is not here, and Limalimo is not here, we can't help like this. Let us protect this park in the bad times, and when the good time comes, you will all benefit."
This is not the only way Limalimo Lodge has supported the local community since its inception in 2016. During the building of the lodge's rammed earth structures at 2,960 meters above sea level, nearly all the construction workers came from nearby villages. Many of them extended their employment at the lodge after it opened. "They are the ones who built the place from the beginning. They are part of Limalimo — that's really what I love," Asrat effuses. He recounts how the same construction workers and their relatives rushed to the lodge's rescue during a recent fire incident within the park. "Communities are the ones who come to help you," he ponders, "The first thing they did is they came to protect the lodge."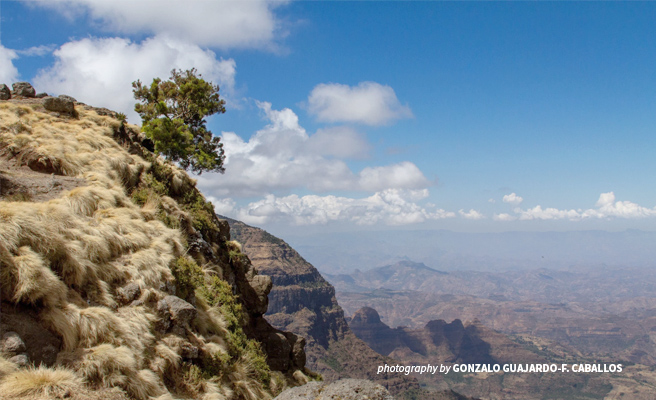 Simien Mountains National Park is a UNESCO World Heritage Site and home to endemic wildlife species
Protecting decades of conservation gains
Limalimo Lodge's symbiotic relationship with the people and the landscape is the bedrock of conservation enterprises. Visitors love to hear about the lodge's eco-conscious design and community-based approach; Asrat is waiting patiently for the crisis to pass so the lodge can open its doors once again.
Tourism-based wildlife economies are in flux since COVID-19 struck, if not entirely collapsed. Ethiopia's budding tourism industry is struggling; lodge owners like Asrat are feeling the pinch, as are the trekking guides, mule workers, cooks who once served more than 35,000 tourists visiting Simien Mountains National Park every year. Though the current situation is unpredictable and alarming for tourism operators, Smith points out that the first few months of pandemic fell when lodges typically experience low numbers. "COVID-19 hit the tourism industry during a period when lodges were already closed and staff were on leave. Many lodge owners are expecting to feel the effects of the travel restrictions and new regulations after July-September, which is a peak tourism season," says Smith. Kenya, which has a more resilient tourism industry is embracing domestic tourism as the first step to recovery with the resumption of flights in August and gradual reopening of lodges and camps.
Given that tourism revenues support most operations for protected area management, an extended downtime will significantly impact wildlife conservation. Simien Mountains National Park was relegated to UNESCO's List of World Heritage in Danger in 1996 following continued human pressure on the park and wildlife population declines. To mitigate the ecological impact of increased settlement and livestock rearing within and around the park, AWF worked with the Ethiopian Wildlife Conservation Authority to develop a grazing pressure reduction strategy in 2016 and provide livelihood alternatives for relocated communities.
AWF's Conservation Program Director Fiesta Warinwa explains, "After we implemented the strategy, we made a case to UNESCO as the situation was improving." In 2017, Simien Mountains National Park was finally removed from the danger list. With support from the German government, AWF continues to support Ethiopia Wildlife Conservation Authority's ecological monitoring capacity and help local communities develop conservation-friendly livelihoods, including tourism enterprises.
During the pandemic, AWF has provided essential support to vulnerable groups neighboring Simien Mountains National Park, distributing food rations as part of the organization's COVID-19 Emergency Response. Additionally, some community members are helping maintain facilities in the park through cash-for-work programs.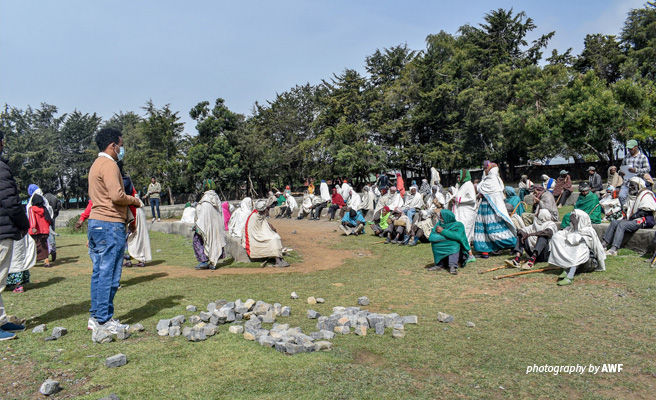 AWF staff in Ethiopia donated foodstuff to communities living near the Simien Mountains National Park
Nurturing a childhood passion for wildlife conservation
"The ecosystem in the Simiens is still quite fragile," worries Asrat. Apart from environmental degradation by subsistence activities and unplanned infrastructure, he is concerned that reduced tourism activity and security during the pandemic will spark illegal wildlife killings after a rare Ethiopian wolf was found injured with gunshots in late May.
Asrat has known Simiens since he was 11. His family moved to Debark after his father, who had enjoyed a decades-long tenure at the wildlife management authority, was posted at the national park. "I am from a family of six children, and all of us were born in different national parks in Ethiopia," he laughs, though he is the only one to maintain a connection to nature like his father. Asrat became a mountain guide at 18, traversing the gorges and peaks with visitors from across the world — and later set up his own trekking company as well as a cybercafé in Debark.
He sought to develop community-based tourism enterprises that could equally support the rich landscape and create opportunities for local people like himself. "I had this dream for a long time when I was a guide," explains Asrat. There was only one lodge in the Simien Mountains National Park before Asrat and Yemata founded Limalimo. He had noticed how the number of visitors to the park tripled after the first lodge was built just over a decade ago, and he thought another establishment could bring in even more.
While his relationship to the Simiens may have changed as a lodge owner, at heart he remains committed to uplifting his community and safeguarding the delicate ecosystem. "If I wasn't [concerned] about the national park, I wouldn't build the lodge here," he says, "My passion is from my childhood. It's in my blood."
His spirited leadership has sustained Limalimo during tough times. In just three years of operation, the lodge has been through multiple states of emergency following political upheaval from late 2016, and now due to the coronavirus pandemic. Limalimo Lodge closes for six weeks during the wet July-August period. Asrat is waiting for the rain to end and the Simiens to blossom by mid-October. "It's all after the rainy season," he gushes, "It's completely green, beautiful, and blooming." For both the park and his people, he hopes that the new beginning brings with it the promise of renewed tourism.
> Learn more about AWF's COVID-19 Emergency Response to strengthen conservation and support communities during the pandemic