Women conservation practitioners strengthen biodiversity protection
Women conservation practitioners strengthen biodiversity protection
By Jacqueline Conciatore | September 14, 2020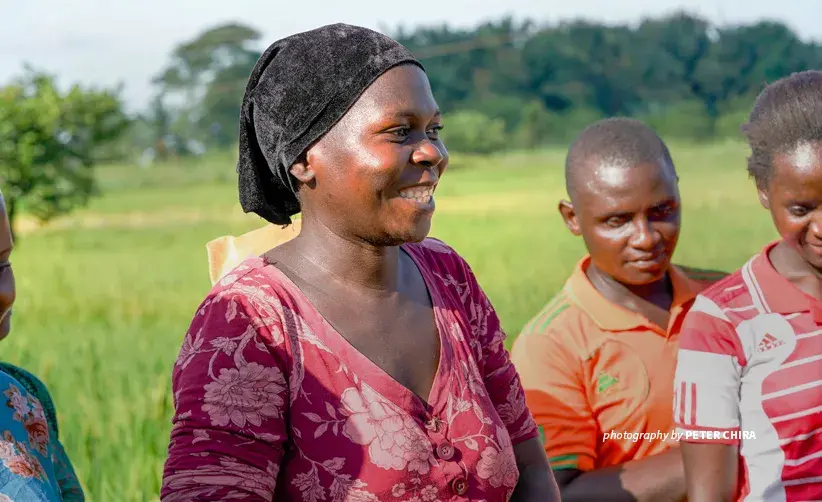 About the Author
Jacqueline Conciatore is African Wildlife Foundation's Writer & Editorial Manager. She oversees the development of articles and other content for AWF print marketing products such as the annual report. She is passionate about using storytelling and compelling content to convey the value and s ... More
In April 2019, two women who are influencing the course of conservation in Africa — Fiesta Warinwa and Didi Wamukoya — traveled from Nairobi to visit their African Wildlife Foundation colleagues in the US and UK. Over three weeks, they met with AWF partners and supporters who make their work possible and appeared in various forums to discuss their work.
At National Public Radio headquarters in Washington, DC, Wamukoya and Warinwa appeared on a "Women in Conservation" panel, where they discussed the challenges of working in a field that, while changing, is still male-dominated. Wamukoya spoke about her early years as a wildlife crime prosecutor with the Kenya Wildlife Service, traveling all over the country to prosecute cases. Most of the prosecutorial and law enforcement officials with whom she worked were not ready to defer to a young woman there to assume some of their caseloads.
They did not want to hear, "I have the authority to take over all the wildlife cases you are handling. So kindly give me the files," she explained. "And it was very difficult. So after about a week, I went to court in my uniform because I had a higher rank than those officers who were in the courts. And the uniform opened doors for me to be able to navigate my way around the male prosecutors." Today, Didi is managing AWF's pioneering effort to strengthen prosecutorial capacities and systems in priority countries.
Warinwa spoke of similar challenges, when, as a young woman just out of college, she worked in an AWF Kenyan field office and regularly met with rangers, community leaders, and village elders. "It became very difficult because they kind of kept referring to the office in Nairobi and saying 'You know, can you get somebody else to come and talk to us?'"
"I told them, 'Nobody in the Nairobi office will come and talk to you. You have to talk to field staff, and that is why we have a field office,'" she said. Through tenacity and by demonstrating her strategic abilities, communication skills, and problem-solving aptitude, Warinwa gained the men's cooperation and trust. Today, she works in Nairobi on pan-African conservation program priorities. But even though she thought she left fieldwork, she still receives calls for help from her early-career contacts in villages. "They don't believe I'm really gone and based at headquarters," she said, laughing.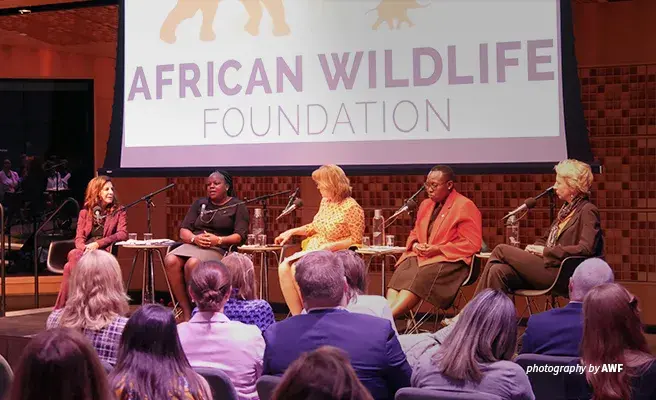 AWF staff Didi Wamukoya and Fiesta Warinwa shared their experiences at a "Women in Conservation" panel at the National Public Radio headquarters in April 2019
Elevating the role of rural women in conservation
Women conservation practitioners like Wamukoya and Warinwa — as well as conservation partners, rural women who live in or close to wildlife areas — are vital to conservation success. That is why AWF recently made the greater engagement of women in conservation a 10-year strategic objective. The conservation field offers tremendous potential for uplifting women in new and/or more advanced roles as practitioners and advocates.
And inclusivity translates to results; for example, according to the United Nations, countries with a broader parliamentary representation of women are more likely to set aside land for protection. Engaging rural women in conservation solutions translates to improvements across sectors — increased food supply, improved health and economic security, innovation in forestry, climate-change effects mitigation, better management of ecosystems. Likewise, when rural women participate in conservation and land-use decision-making, resources are more equitably distributed in communities. "African women are the natural custodians of the environment," says Warinwa. "They pay the price" when it comes to degradation of landscapes, and their livelihoods depend directly on ecosystem health.
AWF is strategically incorporating gender inclusivity into field-based conservation work in priority landscapes. Leading the effort in the wildlife-rich Lower Zambezi Mana Pools Trans-Frontier Conservation area is AWF Zimbabwe Country Director Olivia Mufute. "Conservation has the potential to uplift and empower rural women in Zimbabwe," says Mufute. "There is an element of empathy — they balance out the approach with dialogue and an understanding of family dynamics."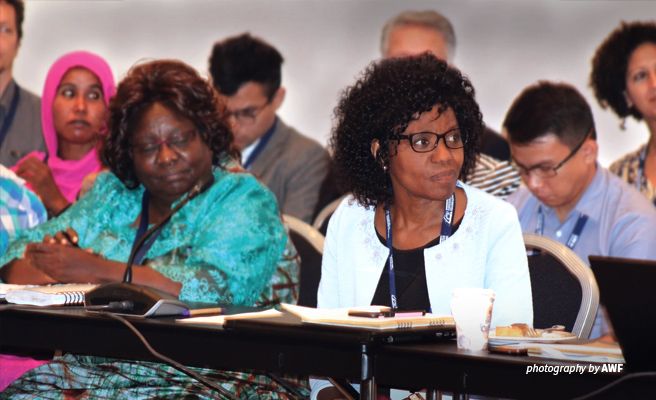 Olivia Mufute represents her country at international conventions including the Convention on Biological Diversity and CITES
Before joining AWF, Mufute had served as the first female Chief Ecologist and Multilateral Environmental Agreements Manager at the Zimbabwe Parks and Wildlife Management Authority. She reinvigorated the authority's research and monitoring capabilities while overseeing the development of national and regional wildlife policies.
Now, she is helping AWF build resilience in rural Zimbabwe communities through the development of ecosystem health. With support from the European Union, Mufute's team is working with local NGOs to improve farming and fishing practices. The objective is for communities in the transboundary (Zimbabwe and Zambia) landscape to conserve the wildlife and the ecological systems essential for their livelihoods.
Just as in her own career, Mufute is a trailblazer for other women in conservation. In 2018, she was instrumental in opening up Mbire District Council ranger forces to women scouts. Edith John, one of the recruits, graduated as the top student in her class of 42 (38 men and four women) who underwent training in fighting poaching and mitigating human-wildlife conflict. Edith John is committed to protecting all endangered wildlife. "I chose to be a ranger in order to protect our wildlife," she says, "because I understand that we need these animals in our lives."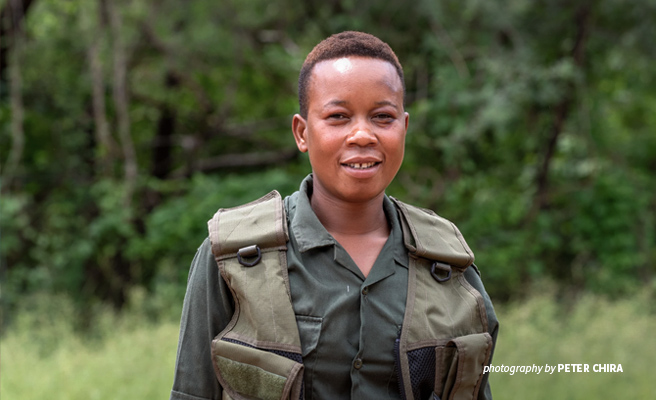 Edith John is one of the first five women to be recruited as community wildlife scouts in Mbire, Zimbabwe
The next generation of women conservationists
Northward in Kenya's Taita-Taveta landscape, Ludovika Malemba is part of a community scouting unit trained in anti-poaching, human-wildlife conflict, bushcraft, and other skills. The group is based at the LUMO Community Wildlife Sanctuary, an integral wildlife dispersal area between Tsavo East and Tsavo West National Parks in Kenya. With other scouts, including two other LUMO women, Malemba is helping to reduce illegal grazing and raise conservation awareness among the densely populated communities outside the conservancy. Malemba admits to the difficulties of juggling a demanding full-time job with being a mother of four.
But she is quick to point out that on the job, all scouts are equal. On any given day, one can find Malemba stationed at the conservancy gate, on patrol, or at base handling the radio.
Whatever challenges they encounter, it is clear that Ludovika Malemba, Edith John, Olivia Mufute, Didi Wamukoya, and Fiesta Warinwa are passionate and inspired conservationists. Equally, they are determined to lift up the women who will come after them. "I want younger women to know that they cannot and should not give up," Malemba says. For her part, Mufute likes to model what it takes for a woman to succeed in conservation, a demanding field that requires people skills and strategic abilities in equal measure. "Focus on delivery of results," she says, "and let your work speak for itself."
> In honor of World Ranger Day on August 31, 2020, Olivia Mufute interviewed two of the women community wildlife scouts she helped recruit in Mbire, Zimbabwe