Africa Day: Why youth inclusion in conservation matters
Africa Day: Why youth inclusion in conservation matters
By Harleen Sehmi | May 25, 2022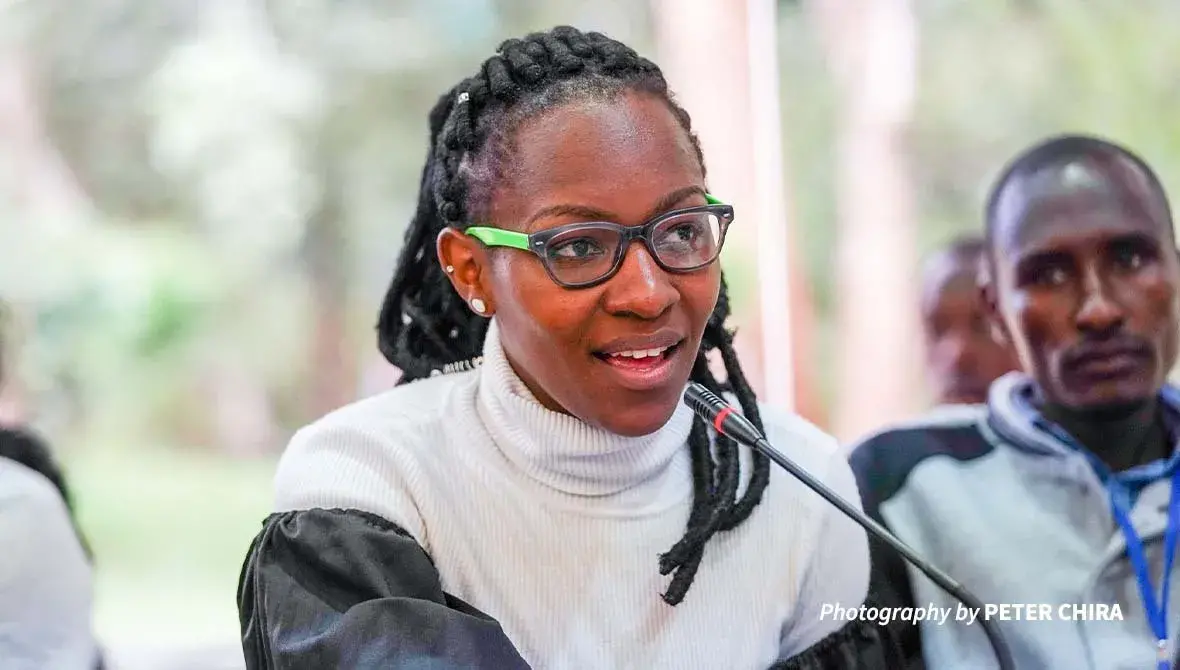 About the Author
Harleen Sehmi is the Senior Digital Content Officer at African Wildlife Foundation. She develops articles for AWF's website and publications, connecting audiences all over the world with the organization's work in diverse landscapes and showcasing the impact of community-centered conservation.& ... More
In a joint celebration of International Day for Biological Diversity and Africa Day 2022, African Wildlife Foundation salutes young conservationists taking charge of biodiversity protection in their communities and countries — whether by raising funds, sharing ideas, or making environmental policies.
This year, Africa Day — observed on May 25 in honor of the creation of the African Union in 1963 — focuses on addressing food security and well-being with the theme of nutrition. AWF recognizes the role of intact natural ecosystems on human health and livelihoods and has spearheaded land-use planning and empowered farmers in biodiversity-rich landscapes to take up sustainable agriculture to feed their families without degrading wild lands or risking human-wildlife conflict.
Every May 22 since 2000, International Day for Biological Diversity commemorates the adoption of the Biodiversity Convention's text by the U.N. General Assembly in 1992. As we enter the second year of the U.N. Decade for Restoration, the theme of Biodiversity Day 2022 is "Building a shared future for all life." Since its establishment in 1961, AWF has worked to expand the capacity of young Africans in wildlife management and conservation. Learn how we continue to work with youth networks to strengthen the role of young people in securing a future for all.
Convening the African Youth Biodiversity Summit on Earth Day 2022
Ahead of the 15th meeting of the U.N. Biodiversity Convention in Kunming, China later this year, AWF and the Global Youth Biodiversity Network Africa organized a summit for young African policymakers and advocates. From April 21-23, 2022, more than 900 participants from across Africa joined conservation and policy experts in training sessions, workshops, and discussions on advocating for strong, youth-focused commitments at the next Conference of the Parties.
The meeting in China later this year — the second part of the biennial conference initially slated for late 2020 but postponed due to the pandemic — is critical in determining the post-2020 global biodiversity framework. Once finalized, the framework will guide targets for biodiversity protection, sustainable development, and nature-based solutions, among other key topics.
AWF CEO Kaddu Sebunya joined the opening session of the three-day summit, along with Global Youth Biodiversity Network's Swetha Stotra Bhashyam (Global South Focal Point) and Prisca Daka (Regional Coordinator, Africa). On April 22, in honor of Earth Day, sessions focused on youth action and engagement in biodiversity protection, including the first-ever Africa Protected Areas Congress in July 2022.
Ultimately, African Youth Biodiversity Summit highlighted biodiversity priorities in different regions across the continent, all of which are captured in a collective statement by all participants.
Chinese and African youth connect on conservation values and solutions
As part of a partnership with China's oldest environment conservation NGO Friends of Nature, AWF hosted the eighth dialogue between African and Chinese youth on April 29, 2022. Over 140 participants from universities and conservation organizations attended the virtual session on understanding large landscape conservation and how this strategy contributes to achieving sustainable development goals.
Also known as OECMs, 'Other effective area-based conservation measures' cover biodiversity-rich landscapes outside of protected areas. Vice-Chair of the IUCN-World Commission on Protected Areas for North Africa, Middle East and West Asia. Imen Meliane provided an overview of OECMs and shared case studies of recently declared marine and terrestrial conservation landscapes in Africa. Additionally, Zhang Hehe presented on a potential OECM in China, an eco-farm that serves as the teaching base of the Friends of Nature at the Gaia Nature School.
Since the dialogue series started in August 2020, AWF and Friends of Nature have engaged hundreds of youth in Africa and China on various topics, including climate change, the role of indigenous people and local communities in biodiversity protection, and the threat of illegal wildlife trade.
Upskilling African youth in environmental policy
With the U.N. Environment Programme, AWF is launching the Charles R. Wall Young African Policy Fellows program. Named after and sponsored by a former AWF trustee of ten years and current trustee emeritus, Chuck Wall. The year-long program aims to train young professionals on international environmental governance related to the U.N. Convention on Biological Diversity.
Through virtual training sessions, a physical training session at AWF's headquarters in Nairobi, engagement with key negotiators in Africa, and opportunities to engage in international policymaking events such as the Conference of the Parties, the fellows will amplify African-led solutions and effective conservation leadership.
School children engage with conservation through wildlife clubs
Across the Tsavo-Mkomazi landscape — a transboundary area covering protected areas, wildlife corridors, and community ranches — AWF's Classroom Africa program supports primary school wildlife club members in Kenya and Tanzania to visit national parks and engage in art and creative writing competitions to ensure that coming generations have opportunities to appreciate their natural heritage. To celebrate World Wildlife Day, wildlife club members from eight schools (located in human-wildlife conflict hotspot areas in the Tsavo landscape) submitted art pieces, short essays, and poems on their favorite wildlife, the need to conserve biodiversity, and conservation challenges such as poaching and wildlife incursions.
For students who have grown up in these essential ecosystems teeming with wildlife, Classroom Africa's conservation education programs help communities mitigate human-wildlife conflict and loss of wildlife habitats. At the Manyara School in Tanzania, which Classroom Africa is rehabilitating, AWF supported a children's conference from March 9-11, 2022. Drawing on the perspectives of 75 Mali Hai Clubs of Tanzania members and patrons as well as teachers from three local schools, the conference also explored local tourism and the value of wildlife conservation.
AWF's interventions are not limited to conservation education. Last year, AWF installed handwashing stations, sanitizers, and personal protective equipment for students and staff at eight target schools in Tsavo. At Kongoni Primary School, Classroom Africa donated textbooks for the first cohort of final-year students, allowing their education to continue despite budget issues.
Hands-on conservation practice for African university students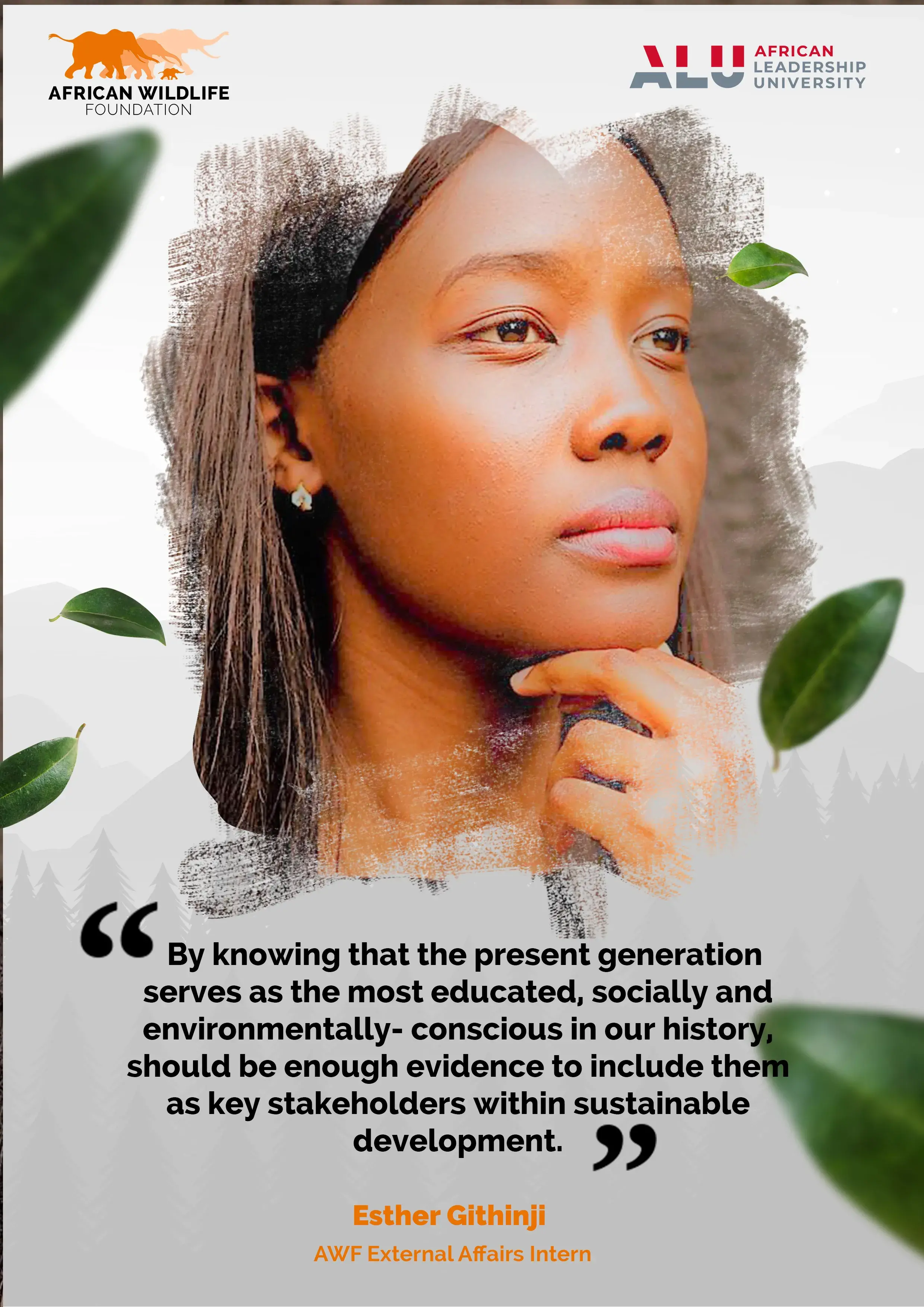 In the last year, AWF and the African Leadership University School of Wildlife Conservation have provided opportunities for both undergraduate and Master's students to put their education into practice on AWF's conservation programs.
As part of our commitment to expose Africa's next generation of conservation leaders to the challenges on the ground and explore practical solutions, AWF has customized internship programs for students in a range of programs. In 2021, AWF welcomed Phyllis Macharia to the Classroom Africa program, where she learnt how to manage community-based development projects. The same cohort of interns included an International Business and Trade student from Kenya Esther Githinji and Djonrewang Tabouli Daniel Ange, from Cameroon, studying Global Challenges. They both applied their skills in conservation leadership and advocacy. Githinji took up an internship with the External Affairs team and Daniel joined the Africa Protected Areas Congress' administration team.
For five Master of Business Administration students at the African Leadership University, AWF conservation projects serve as capstone research projects that demonstrate business-related opportunities and solutions. One student, for instance, is projecting the financial prospects of the planned expansion of Volcanoes National Park to secure mountain gorilla habitat and boost local development.
Walking for the African elephant
Sixteen-year-old Cole Culver from central Massachusetts pledged to walk 75 miles in two months to support his favorite animal, the African elephant. Cole's father, Mike, encouraged him to give back to a cause that benefits people, and they decided to donate Cole's collection to AWF — a testament to our holistic wildlife conservation projects.
The more people heard about his endeavor and saw him walking in the neighborhood, the more they gave. By the time Cole clocked 75 miles, he had far surpassed his initial goal of raising US$ 150 and collected US$ 2,165. Cole, who is autistic, thanked those who joined his crusade for African conservation with a video and a colorful drawing of an elephant.