On Earth Day, AWF celebrates conservation experts working to restore our planet
Global Leadership
On Earth Day, AWF celebrates conservation experts working to restore our planet
By Patrick Mitchell | April 21, 2021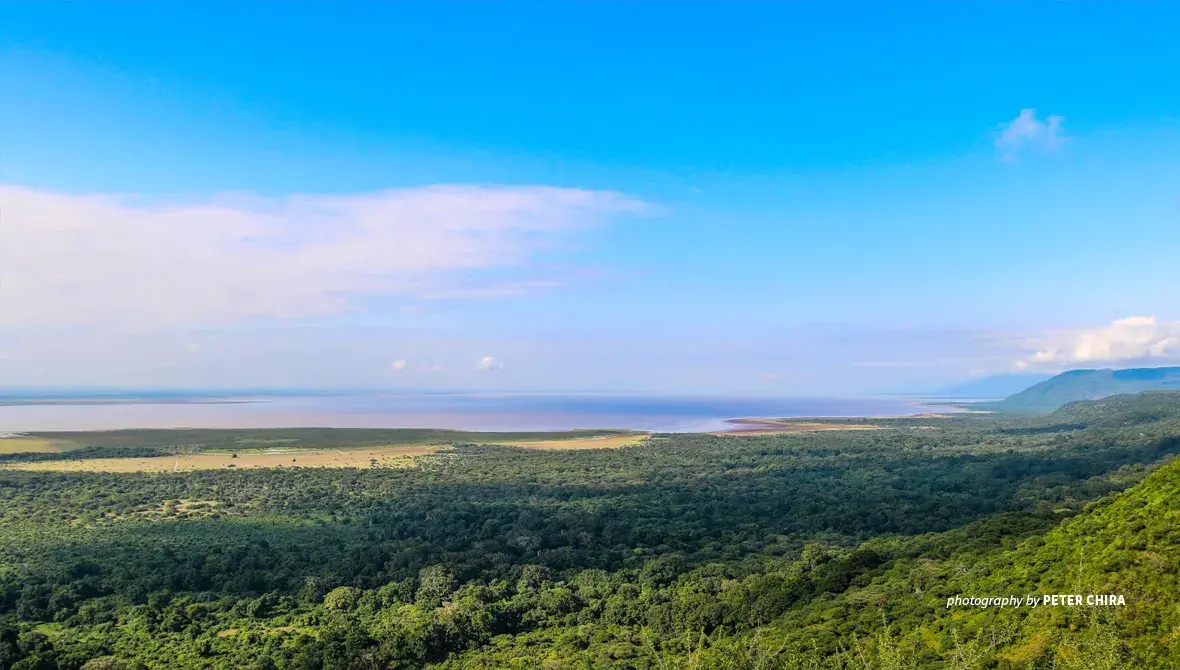 About the Author
Patrick Mitchell is a former Public Relations and Corporate Communications Manager at African Wildlife Foundation.
More
The 2021 Earth Day theme 'Restore Our Earth' looks at natural processes, emerging technology, and innovative thinking that helps restore the world's ecosystems. African Wildlife Foundation utilizes all of the above every day to protect wildlife and wild lands, and enhance natural ecosystems.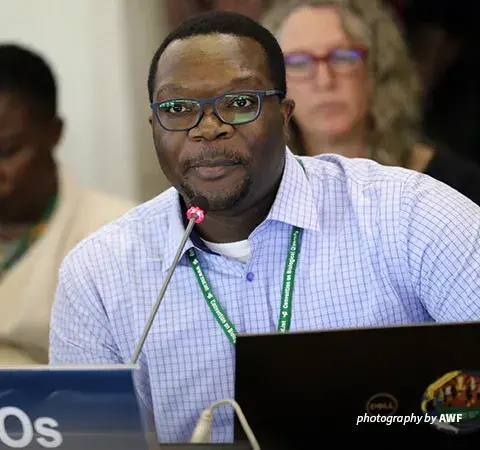 In Africa, we are working to build strong wildlife economies in local communities to serve as our first and last line of defense for conserving wildlife and protecting habitats. In recognition of Earth Day on April 22, we are shining a light on five of our experts managing conservation programs on the continent and overseeing global advocacy efforts. Their work exemplifies the essential connections between wildlife conservation and the world's largest environmental movement, which started more than 50 years ago on the first Earth Day in 1970.
Edwin Tambara, Director of Global Leadership
Edwin Tambara helps promote African wildlife conservation in the U.S. environmental policy arena, working with partners to increase U.S. support for regulating wildlife markets and pandemic prevention. His efforts are critical to maintaining ongoing programs to prevent poaching and the illegal wildlife trade in Africa. Working with multilateral organizations such as the United Nations and the World Bank, as well as the U.S. and Canadian governments, Tambara helps influence smart, well-balanced conservation policies while encouraging development financing that supports nature conservation in Africa.
Tambara says: "Our team is making a difference every day. Our advocacy efforts in Washington, D.C., Africa, Europe, China, and the G20 to engage policymakers helps to restore our earth by increasing funding to prevent poaching and stop the illegal wildlife trade. Poaching and the illegal wildlife trade may be some of the biggest drivers of population declines, but the 'silent threats' are prevalent as well, and extremely relevant to our work. Habitat loss and fragmentation are invisible dangers for natural ecosystems, and we are helping to divert international attention to these lesser recognized threats."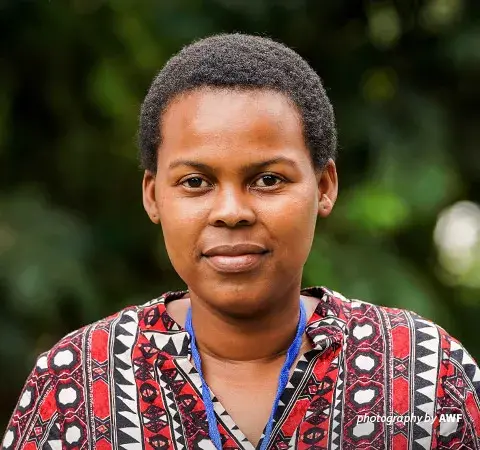 Simangele Msweli, Senior Manager, Youth Leadership Program
Simangele Msweli is just wrapping up the organization's campaign to recognize the Top 100 Young African Conservation Leaders 2021. AWF partnered with the Africa Alliance of YMCAs, World Organization of the Scout Movement, and WWF to empower the efforts of young, talented Africans and inspire other youth in leading the way to ensure nature and people will thrive for generations to come.
Msweli served as Project Site Coordinator of the Oceans Alive Project at WildOceans, working with rural communities adjacent and inside iSimangaliso Wetland Park in South Africa's KwaZulu-Natal Province. She is a steering committee member of the Global Youth Biodiversity Network and the assistant chair of the communications task force of the African CSOs Biodiversity Alliance (ACBA) – a group of like-minded civil society organizations that are working together to influence the Post-2020 Global Biodiversity Framework.
Msweli says: "My role in managing AWF's youth leadership, amongst other things, includes curating and implementing awareness programs and influencer campaigns that are aimed at building the next generation of conservation leaders across the African continent. We are so proud of the Top 100 Young African Conservation Leaders list, which includes young entrepreneurs and philanthropists creating positive impact in sustainable agriculture and food security, forest and land restoration, ocean protection, wildlife conservation, waste management, clean energy access and research, education and awareness. There is no better way to restore our earth than to teach, encourage, and applaud the young people who are playing a more active role in the technology and innovation that will make it possible in the future."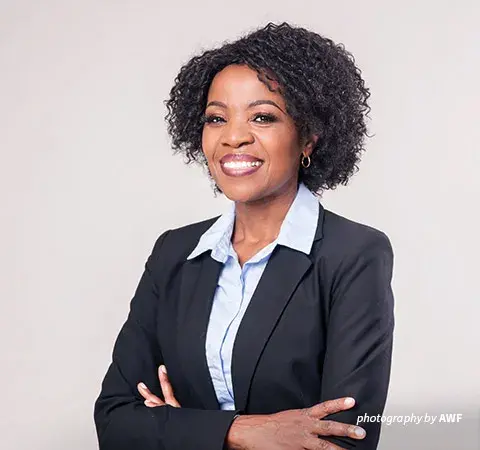 Olivia Mufute, Country Director, Zimbabwe
Olivia Mufute is working to grow AWF's conservation programs in Zimbabwe. With over 20 years of experience in ecology, policy development, and implementation of multilateral environmental agreements at Zimbabwe Parks & Wildlife Management Authority, Mufute develops programs that directly impact local communities and wildlife economies. AWF's Zimbabwe portfolio is one of the most diverse in the organization, with activities ranging from the European Union-funded anti-poaching and livelihood activities in the Lower Zambezi Valley to the resilience-building activities in Save Valley supported by the U.S. Agency for International Development. Mufute is currently involved in efforts to develop Zimbabwe's policy positions on wildlife economies to bring natural resource benefits closer to local communities.
Mufute says: "In keeping with the Earth Day theme to restore our earth, AWF Zimbabwe is working with tobacco farmers in Hurungwe district to reverse deforestation and implement innovative and sustainable methods of tobacco drying that reduce the use of timber by 50 percent. Farmers enjoy a better product, and the planet loses fewer trees. Earth Day allows us to reflect upon our relationship with this important project and honor our roles as stewards and caretakers. It's a real-world win-win."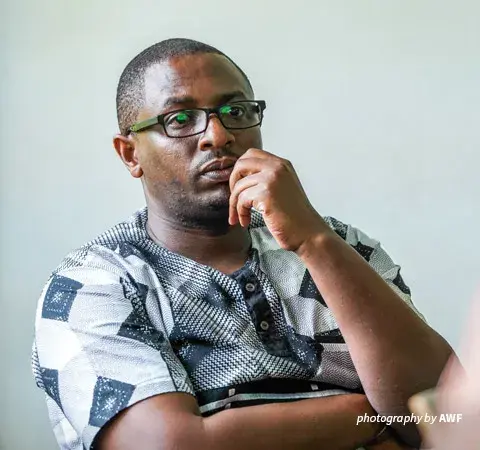 Pastor Magingi, Program Manager
Based in Ifakara, Tanzania, Pastor Magingi has been leading AWF's efforts to restore ecosystems in the expansive Kilombero Valley of Southern Tanzania, which is part of the Southern Agricultural Growth Corridor of Tanzania, an area that produces over 60 percent of all the food grown in the country. Working closely with Kilombero District Council, Kilombero Nature Forest Reserve, Tanzania Forest Conservation Group, and the Southern Agricultural Growth Corridor of Tanzania Ltd., Magingi oversees the implementation of the 'Inclusive Green Growth for Agrarian Communities in Kilombero District' project funded by the German Federal Ministry for Economic Cooperation and Development. This project has managed to increase the incomes of 2,000 cocoa and rice smallholder farmers, restore 1,500 hectares of degraded land, and reduce human-wildlife conflict incidences.
Magingi says: "In the Kilombero Valley of Tanzania, Earth Day is every day. With AWF support, the community has helped to restore wildlife habitats, including forests and rivers. They now enjoy cleaner water sources and better yields from their farms due to smart agriculture practices that minimize deforestation while improving harvests. It is a great success story illustrating how beneficial environmental restoration is to both nature and people."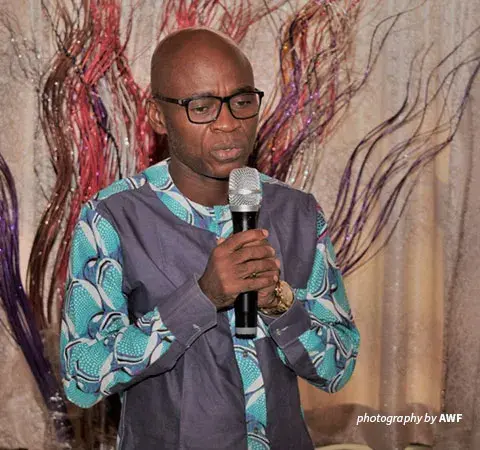 Antoine Tabu, Country Coordinator, Democratic Republic of Congo
Antoine Tabu is also the Deputy Chief of Party of USAID-funded Community Based Countering Wildlife Trafficking Project in Bili-Uele. This program transforms how communities manage and utilize their natural resources, shifting a previously exploitative relationship to one of mutual benefit. Under Tabu's leadership, the landscape in northern DRC has significantly benefited from reducing slash-and-burn agriculture, artisanal mining, and indiscriminate hunting. Due to inclusive land-use planning processes that incorporate community-led participatory mapping, the community has embraced sustainable livelihood activities which have also boosted their incomes.
Tabu says: "Communities care deeply about the environment and, given the chance, they will adopt livelihoods that prioritize the wellbeing of the planet. We have seen this in action in Bili-Uele, where AWF is working with fishermen, hunters, and farmers to create and implement land-use plans that free up resources for everyone without jeopardizing the forest ecosystem."