World Environment Day: Explore Africa's savannas, tropical rainforests
World Environment Day: Explore Africa's savannas, tropical rainforests
By Mike Seay | June 3, 2022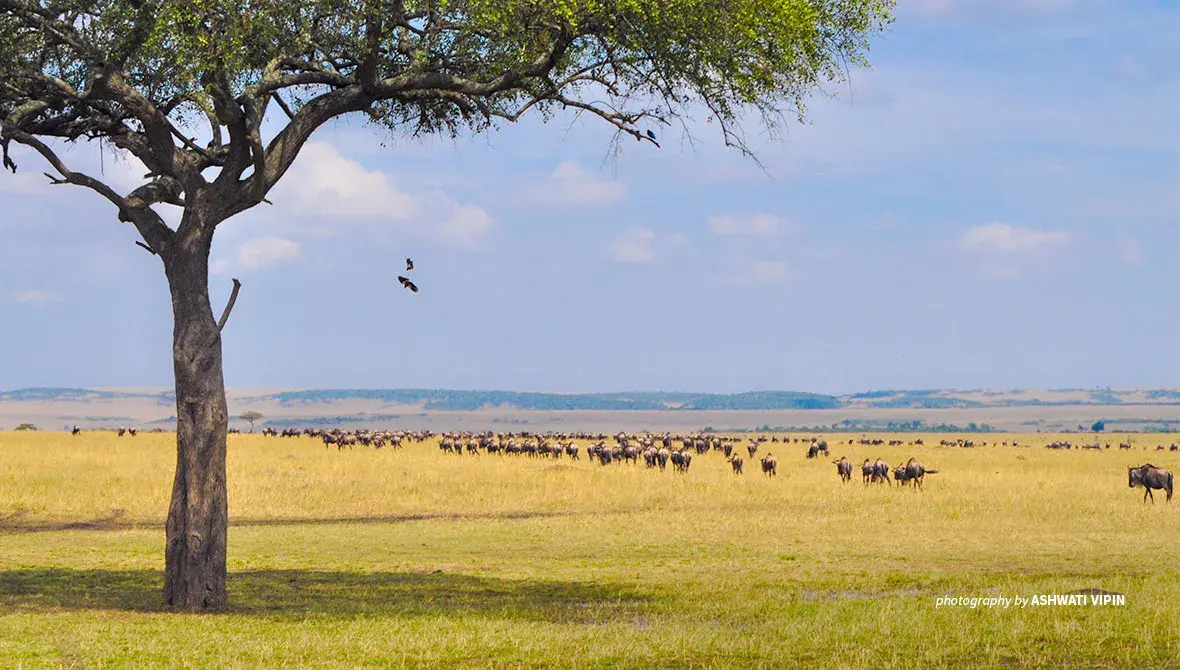 About the Author
Mike Seay is AWF's Digital Marketing Officer. Mike strives to advocate for conservation as he writes, edits, and strategizes for AWF's advocacy campaigns, e-newsletters, marketing initiatives, and website. After graduating with a B.A. in Political Philosophy, Policy, and Law from&n ... More
For World Environment Day 2022, African Wildlife Foundation is celebrating #OnlyOneEarth by calling attention to the rich diversity of biomes, ecosystems, and species on our planet. Just as there is only one Earth, there is only one Africa. The continent has stunning variation in its natural environments, exhibiting nine out of the world's 14 terrestrial biomes, according to a study published in the journal BioScience.
AWF has identified ecologically valuable landscapes throughout the continent where biodiversity conservation interventions can impact both communities and wildlife. In honor of World Environment Day on June 5, 2022, learn about four African landscapes — savanna grassland, tropical rainforest, desert, and afromontane forest — that stand out for their sights, biodiversity, and conservation challenges.
Protecting the savanna grasslands of Africa
Tropical grasslands, or savannas, offer some of the most iconic sights in sub-Saharan Africa, covering almost half of the entire continent. Grasslands have a dry, warm climate. Tropical grasslands are found close to the equator, and while they are mostly grass, they can have scattered trees and shrubs.
African savanna elephants (recently distinguished from forest elephants), giraffes, rhinos, lions, zebras, and many other wildlife species live in Africa's savannas. With alternating rainy and dry seasons, rainfall is critical for this biome. However, due to climate change, rainy seasons have been unpredictable and inadequate in recent years, throwing essential wildlife ecosystems out of balance.
Droughts in Africa are devastating for wildlife and communities alike — as the water dries up, human-wildlife conflict increases. In Tsavo National Park, which is home to around 12,000 elephants (one-third of Kenya's elephant population), community-based conservation provides a way forward for local development. AWF trains and equips farmers and rangers to safely and sustainably mitigate human-wildlife conflict.
Africa's tropical rainforests are critical carbon sinks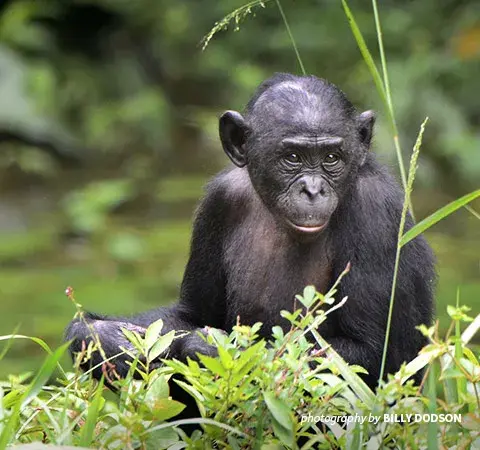 Tropical forests are humid and warm, and they are found close to the equator. The Congo Basin in Central Africa contains the second-largest rainforest in the world and the largest forest in Africa. With over 300 million hectares of primary rainforest and an even stronger carbon sink than the Amazon, the region has been dubbed the world's second lung. Alongside this source of climate resilience, the expansive forest provides other key ecosystem services for human well-being, including water, forest products, hazard prevention, and more.
The rainforest is one of the most biodiverse regions globally, containing over 400 mammal, 700 fish, and 1,000 bird species. These rainforests are home to the endangered bonobo and the elusive and critically endangered African forest elephant.
In the remote Bili Uélé landscape of the northern Democratic Republic of the Congo, AWF enables communities to live in a way that safeguards the area's essential forest ecosystem. For instance, we facilitate training and provide equipment for fish farms in the landscape to improve residents' livelihoods and curb the overexploitation of natural resources in the tropical rainforest.
African wildlife species adapt to desert landscapes
A desert is a dry region characterized by its relative lack of precipitation, low humidity, and extreme temperatures. Africa is home to the world's largest desert, the Sahara, which covers much of the northern portion of the continent. A quarter of the desert is covered in sand sheets and rolling dunes.
Wildlife in the desert must adapt to the lack of water and sparse vegetation. The oryx, for example, feeds late at night or early in the morning when the amount of dew that plants have absorbed is maximized. In Namibia's drylands, desert elephants are thought to have wider footpads so they can travel further across the sandy terrain and can survive on less water than African elephants in cooler, wetter regions.
AWF has worked in Niger, of which 80 percent is the Sahara Desert, to protect the rare West African giraffe by supporting communities who share space with this gentle and increasingly rare giant adapted to the arid landscape. Preventing desertification of wildlife-rich areas in this region is critical, particularly as climate change escalates extreme conditions.
In Northern Cameroon's Faro National Park, situated in a transboundary desert biome, AWF is working with wildlife authorities, local groups, and community leaders to ensure sustainable land-use safeguards livelihoods, and limits habitat degradation through pastoralism.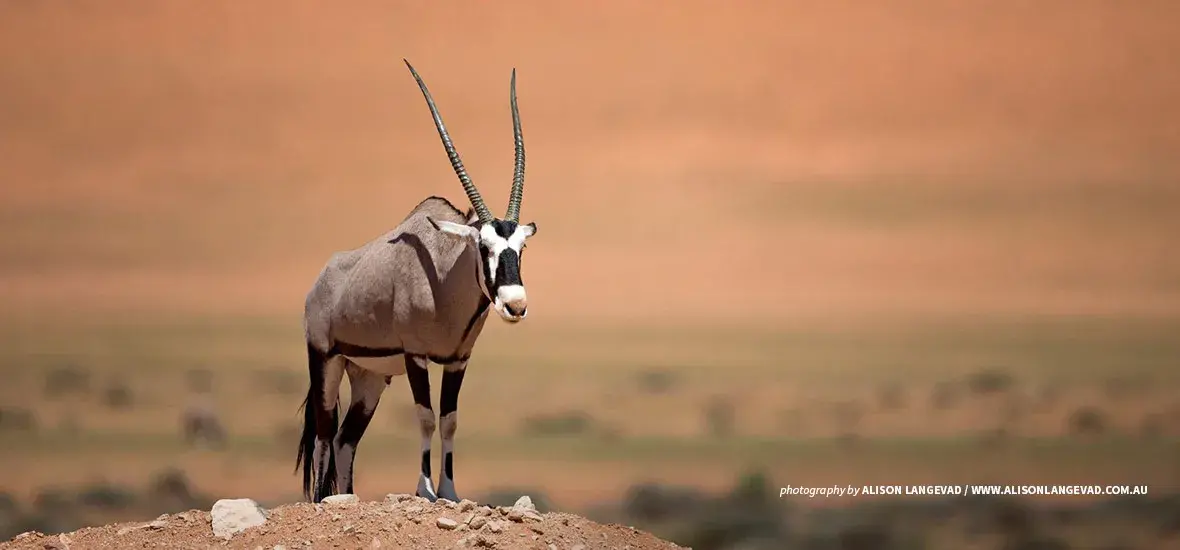 Afromontane forest: a refuge for the endangered mountain gorilla
Africa's mountains are a sight to behold — and montane regions are critical landscapes for biodiversity conservation. The Albertine Rift Ecoregion is the only place where the endangered mountain gorilla can be found. More than 1,000 mountain gorillas inhabit this dense forest along the borders of Uganda, the Democratic Republic of Congo, and Rwanda, thanks to decades of conservation success that rebounded them from mere hundreds.
However, this population increase comes with a new challenge of securing sufficient habitat for mountain gorillas. In and around Rwanda's Volcanoes National Park, the lack of adequate space impacts both communities and wildlife, raising the likelihood of human-wildlife conflict and zoonotic disease transmission, among other risks.
To sustain the growing number of mountain gorillas, AWF is working with the Rwandan government to expand the protected area and improve living standards for people in the region through conservation-friendly livelihood development. This pioneering conservation model is a win-win for people and wildlife, proving that sustainable development and protected area conservation go hand-in-hand.
> See the impact of human-wildlife conflict through the killing of beloved silverback gorilla Rafiki in June 2020